Is the Superhero Wave Coming to an End?
Shazam 2 isn't the only recent superhero movie that has fallen short of expectations.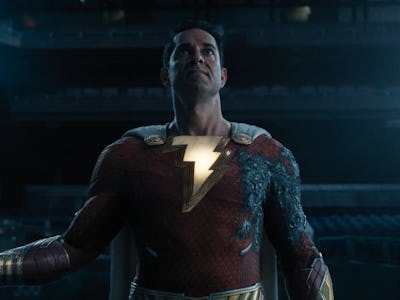 Warner Bros. Pictures
For the past decade or so, the superhero genre's dominance over the entertainment industry has gone more or less unchallenged. To some, the chances of the genre's popularity ever waning seemed, consequently, slim at best. In recent months, however, Marvel Studios and DC Films' share hold over Hollywood has begun to slip.
As a matter of fact, thanks to a recent string of both critical and financial disappointments, it's starting to look more like the superhero wave that Hollywood has been riding for well over 10 years now may beginning to die down. Depending on how each viewer feels about the genre, that'll either come as very good or very bad news.
Regardless, it seems clear now that Hollywood is, indeed, nearing the end of an era.
In its opening weekend, Shazam! Fury of the Gods raked in just a little over $30 million at the domestic box office. The film, which needs to earn over $200 million in order for Warner Bros. to break even with it, fell short of the $53.5 million that 2019's Shazam! earned at the first box office in its first weekend.
For those involved in the film, as well as those who were looking forward to it, Fury of the Gods' box office performance has come as a major disappointment. However, the Shazam sequel isn't the only recent superhero movie that has fallen short of critics and box office pundits' expectations.
In February, Marvel's Ant-Man and the Wasp: Quantumania received largely negative reviews from critics and its current worldwide box office gross sits at just a little over $463 million. The film, in other words, has yet to surpass the box office totals of both 2015's Ant-Man ($519 million) and 2018's Ant-Man and the Wasp ($622 million).
Even if Quantumania ends up surpassing its 2015 predecessor at the box office, the film's performance will still likely be seen as disappointing by both Marvel and the studio's fans. After all, unlike the first two Ant-Man films, Quantumania was marketed as a major Marvel Cinematic Universe event title that couldn't be missed.
To make matters worse, last year's Black Panther: Wakanda Forever and Thor: Love and Thunder both came up short of their predecessors' box office totals as well. On the DC side of things, meanwhile, 2022's Black Adam received mostly negative reviews and its box office performance ended up becoming a surprisingly divisive topic. Nowadays, people seem to be split on whether the film was a box office bomb or a very slight financial success.
Either way, Black Adam didn't perform as well critically or financially as most people expected it to, especially given its status as the first superhero movie starring Dwayne Johnson in a lead role. To make matters messier, recent reports suggest Johnson effectively torpedoed the productions of both Shazam! Fury of the Gods and Black Adam in his attempt to recenter the DCEU around his anti-hero.
Altogether, the disappointing performances of Wakanda Forever, Love and Thunder, Black Adam, and Quantumania suggest that the days of superhero movies dominating the pop cultural conversation are coming to an end. To add to that theory, it was announced this week that Marvel Studios producer, Victoria Alonso, has left the company after first joining its team back in 2006. In her position, Alonso helped oversee the first 15 years of the Marvel Cinematic Universe.
Alonso's departure doesn't, by any means, signal the death of the MCU. It does, however, only add further credence to the idea that Marvel Studios is approaching the end of a creative era. The same is, of course, true for DC, which is in the midst of preparing to take yet another shot at building its own interconnected, multimedia franchise. The studio's new DC Cinematic Universe will, notably, be overseen by Peter Safran and Guardians of the Galaxy director James Gunn.
However, while neither Marvel nor DC intends to give up on their plans for pop-cultural dominance anytime soon, the question of whether or not audiences will continue to give the two studios their undivided attention remains.
The Inverse Analysis — As bad as things currently look for Hollywood's superhero franchises, it's worth noting that both The Batman and Doctor Strange in the Multiverse of Madness performed well last year. In doing so, the two films proved that there's still life to be found in the superhero genre. The general enthusiasm surrounding the superhero genre at large doesn't seem as intense now as it was two or three years ago, though.
On the one hand, that means Marvel Studios may never again achieve the kind of pop-cultural dominance it did when it released Avengers: Endgame. On the other hand, that doesn't mean the superhero genre is going anywhere anytime soon. The occasional box office bomb has never truly hurt any genre, either.
In fact, signaling to studios like Marvel and DC that moviegoers won't automatically fall over themselves with excitement about every new thing they put out is the only way to ensure that both studios try to maintain some kind of base quality level. Even more importantly, a decreased enthusiasm for superhero movies opens the door for moviegoers to start exploring other genres and stories again — and that's never a bad thing.