Shazam 2's Box Office Failure Can Be Blamed on One Controversial DC Decision
Black Adam debuted in the wrong movie.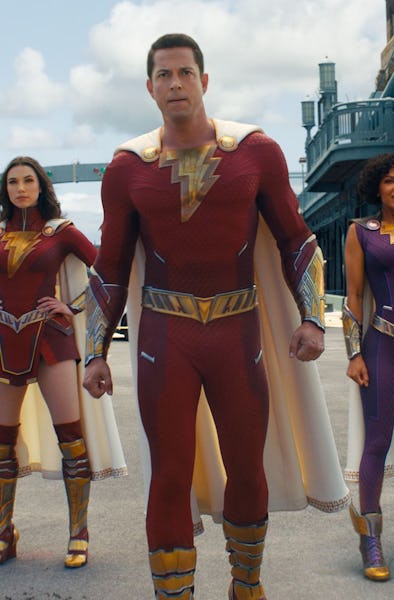 Warner Bros. Pictures
While 2019's Shazam leaned into the humor, heart, and absurdity of its superhero, this year's sequel is floundering at the box office, and it's at least partly due to Warner Bros. and the Rock's total mismanagement of a certain antihero. Shazam was a unique change of pace for the DCEU, which was slowly but surely crawling out of the grimdark pit they were left in by Zack Snyder's vision of the universe. Directed by David F. Sandberg and lead by the crowd-winning duo of Asher Angel and Zachary Levi, it perfectly captured the childlike wonder of Billy Batson's superheroics and mixed in just the right amount of emotional growth.
However, the sequel has failed to capture the same kind of wonder in audiences. Initially projected to make a modest $85 million on opening weekend, Shazam: Fury of the Gods underperformed and raked in a measly $65.5 million instead. The development doesn't bode well for Warner Bros. and DC Comics, as it's yet another box office disappointment coming as the studio prepares for a new future under James Gunn and Peter Safran. But there's one distinct mistake that spelled doom for Fury of the Gods from the beginning, and it's one that could have been easily avoided if not for dollar signs and sheer celebrity ego.
Black Adam has been an enemy of Billy Batson and his superpowered siblings for over 70 years. Both Adam and Billy receive their powers from the wizard Shazam, but Adam's mind was warped by both the magnitude of his power and the trauma he'd experienced as a former slave. Although Adam's morals fluctuate too much for him to just be a run-of-the-mill supervillain, his rivalry with the Batson clan is one of the most iconic vendettas in comic book history. And yet Warner Bros. decided to introduce the character in an unrelated spin-off catered to the ego of Dwayne Johnson, an actor with such a curated on-screen presence that his contract demands he never lose a fight.
While there's nothing inherently wrong with Black Adam getting a solo film, it's a shame that it had to come at the expense of him first appearing as the rightful villain in a Shazam sequel. The original Shazam had a fairly light tone that was upheld by a rather goofy villain; what better way to raise the stakes and give audiences a darker installment than by introducing Black Adam as a worthy opponent? Had Johnson made his debut as Black Adam in Shazam: Fury of the Gods, superhero fans might have flocked to see an epic showdown between two godlike beings of immense power, recognizing the iconography of their deep-seated rivalry. Instead, Warner Bros. chose to pursue two separate franchises after seeing dollar signs above the Rock's head, and the end result is two more critical and commercial disappointments to add to the DCEU's belt.