Secret Invasion Trailer Reveals Emilia Clarke's Marvel Role — and a Shocking Conspiracy
After a long wait, Nick Fury is coming back to the MCU with an espionage story with otherworldly origin.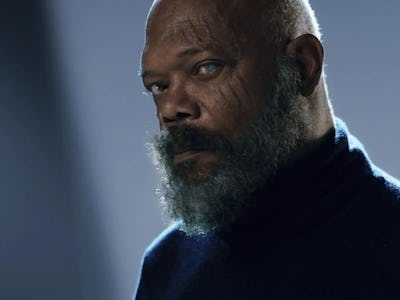 Marvel Studios
Secret Invasion has been a long time coming. Despite being announced during a massive Disney Investor's Day presentation back in 2020, we're just now seeing the series on the horizon. The Disney+ series, the first of Marvel's Phase 5, focuses on Nick Fury as he leads a fight to uncover a massive conspiracy to replace people with Skrull double agents.
We've seen teases about this specific conspiracy for years now, dating all the way back to Spider-Man: Far From Home and its post-credits Skrull reveal, but with this series only a few months away an official trailer reveals some huge moments — and the roles of its all-star cast.
While the Secret Invasion trailer focused mainly on Nick Fury (and rightfully so) there are also some interesting new faces in the series, like Olivia Colman as Sonya Falsworth (probably a reference to Union Jack, aka James Montgomery Falsworth). But the most exciting of these new cast members is Emilia Clarke, who plays G'iah.
Who is Emilia Clarke playing in Secret Invasion?
Emilia Clarke may be a newcomer to the MCU, but G'iah is not. You may remember her as Talos' daughter in Captain Marvel, where she bonded with Monica Rambeau over a game of Uno. Now, she's all grown up, and it looks like she's following in her father's footsteps by helping Nick Fury with his mission.
This mission brings her face to face with a room full of what looks like cryogenic tanks full of bodies. It's a scene out of classic conspiracy thrillers like The Matrix or Invasion of the Body Snatchers. But what bodies could be inside? A Skrull army waiting to be awakened? The bodies of those who have been replaced by shape-shifting aliens? There's no answer as of yet, but it adds a looming threat to any excited fans.
The Inverse Analysis — Every shot in this trailer looks like it's exactly what the MCU needs: a flashy-but-gritty spy-fi story that swaps out the powers and wisecracks of past works for the ingenuity and strategy Nick Fury is known for. After previous shows like Ms. Marvel and She-Hulk: Attorney at Law, this trailer is proof that MCU TV, like a Skrull, can take any form.
Secret Invasion premieres June 21, 2023 on Disney+.