Rick and Morty Season 7 Episode 3 Release Date, Time, Title, and Trailer for the Sci-Fi Show
Rick's most annoying rival is back.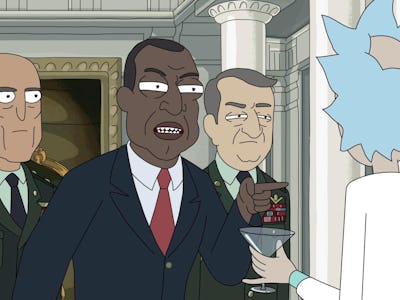 Rick Sanchez's most amusing frenemy is making his return to the series for the first time since the Season 6 finale. That's right, the President of the United States (Keith David) is back, and somehow, he's still never been primaried out of a job. As per usual, the President needs to recruit Rick for something, but how long will it take for these two to butt heads?
Here's everything you need to know about Rick and Mort Season 7, Episode 3, including the release date and time, episode title, trailers, and more.
When Is the Rick and Morty Season 7 Episode 3 Release Date?
Rick and Morty Season 7, Episode 2 airs Sunday, October 29.
When Is the Rick and Morty Season 7 Episode 3 Release Time?
New Rick and Morty episodes first air every Sunday at 11 p.m. Eastern.
How Can You Stream Rick and Morty Season 7 Episode 3?
Tune in to Cartoon Network on cable TV to watch Episode 3, or use some other live TV service that has the network. Alternatively, you could watch directly on the Adult Swim website's simulcast, but that still requires a cable TV login. The Season 7 premiere is available to stream for free if you haven't caught that one yet.
After the episode airs, you can also purchase it on streaming services like Amazon and iTunes.
How Many Episodes of Rick and Morty Season 7 Are Left?
Like almost every previous season, there are 10 episodes in Rick and Morty Season 7. After Episode 3, we'll have seven more. There will probably be a break of a month or so at some point mid-season, but it's unclear when that might happen.
Is There a Trailer for Rick and Morty Season 7 Episode 3?
A stinger for Episode 3 aired Sunday night around 11:30 p.m. Eastern right after Episode 2 concluded. The final scene will likely play out slightly differently (last week's trailer omitted key lines of dialogue, so that could happen again.
The clip opens with a shot of the White House. Rick then emerges from a portal in some kind of command center. The President thanks Rick for coming, so it seems like he was invited. Notably, the large screen depicts the state of Virginia with the legislative district boundaries shown. It could just be some sort of legend or tracking feature, but there's also a triangle in the top-right (or northeast) section of the state.
The President has assembled a "crack team" that includes FleeFlack, an alien that "might" be able to tell the future; weapons specialist Onyx; and the Chief of Staff bot CHI2 (pronounced Chi-Chi). FleeFlack warns of "grave danger" and shows a picture they drew of what looks like Bigfoot attacking Rick who naturally dismisses them all and hops into a portal.
Clearly, there's some kind of national emergency that the POTUS calls on Rick to help with. But what?
What is the Plot and Title of Rick and Morty Season 7 Episode 3?
"Air Force Wong" is the title of this episode with the following logline: "Virginia is for lovers, broh." The previously released Episode Titles Reveal also features some kind of force field dome over rolling hills. "Virginia is for Lovers" is actually the official state motto here in the real world and was adopted in 1969.
The title is a clear play on "Air Force One," the name of the President's personal jet. Don't get excited about some kind of Marvel Cinematic Universe crossover when it comes to "Wong," though. It probably refers to Dr. Wong, the therapist that the entire Smith family has visited since "Pickle Rick" who last showed up in Season 6's "Analyze Piss."
Between all of this and the teaser for Episode 3, something is amiss in Virginia. And if it's for "lovers" then does that mean some kind of romance is in the air? There's only one way to find out.