What Time Is Rick and Morty Season 7 Episode 2 Released?
Here's what you need to know.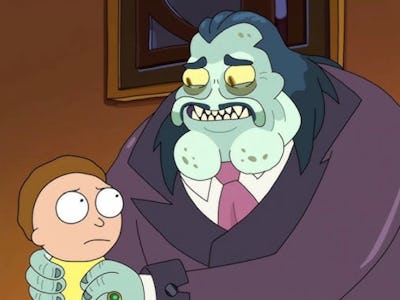 Adult Swim
Rick and Morty Season 7 is already one big party. The season premiere saw Rick stage a failed intervention for Mr. Poopybutthole, who'd been crashing at the Smith family home for several months. After recruiting Gearhead, Squanchy, Birdperson, and their next-door neighbor Gene, the gang wound up going on a bender that led them right to Hugh Jackman's "Jack Shack" to party.
When all's said and done, Mr. P and friends seemingly learned a lesson. But will things change? Probably not. Rick and Morty Season 7 continues on with Episode 2, "The Jerrick Trap." Here's everything you need to know, including the release date and time, episode title, trailers, and more.
When Is the Rick and Morty Season 7, Episode 2 Release Date?
The second episode of Rick and Morty Season 7 will air Sunday, October 22.
When Is the Rick and Morty Season 7, Episode 2 Release Time?
New episodes debut at 11 p.m. Eastern.
Where Can You Watch Rick and Morty Season 7?
The best way to watch Rick and Morty Season 7 is via cable TV on Cartoon Network. You could do the same on a service like YouTube TV, however. The Adult Swim website also hosts a livestream simulcast which still requires a cable login.
After the episode airs, you can also purchase it on streaming services like Amazon and iTunes.
How Many Episodes of Rick and Morty Season 7 Are Left?
Rick and Morty Season 7 will have 10 episodes, so after Episode 2, there are eight more. There's no telling when the season will wrap, however, because it tends to go on at least one break at some point mid-season.
Is There a Trailer for Rick and Morty Season 7, Episode 2?
Per usual, a teaser for Rick and Morty Season 7 Episode 2 aired right after Episode 1 concluded. In the clip, Morty is in cuffs as two alien gangsters bring him up an elevator to their boss. They caught him selling crystals on their turf. The boss is immediately worried because of Rick's reputation in the underworld.
Realizing his advantage here, Morty asks for a milkshake, which the boss is more than eager to oblige.
What is the Title and Plot of Rick and Morty Season 7, Episode 2?
Episode 2 is called "The Jerrick Trap" which is a clear riff on The Parent Trap, the 1998 family comedy (which itself is a remake of a 1961 film) in which Lindsay Lohan plays twin girls who were separated at birth. Shortly before their 12th birthday, the girls accidentally reunite at a summer camp. They swap places and successfully manipulate their parents into getting back together. But how meaningful is the reference for Rick and Morty?
The immediate possibility is that this is related to Beth and Space Beth in some fashion. Alternatively, maybe Morty or Summer has a secret twin? It could even be related to Naruto (the giant incest space baby) or Morty Jr., the Gazorpian.
The episode's logline is, "Gotta be mindful, broh. Big brain stuff here." Could "mindful" be an overt reference to mindfulness and meditation? Maybe this is Morty's evil twin who got caught selling crystals? We'll find out on Sunday.
Who Voices Rick and Morty Now?
Series co-creator Justin Roiland previously voiced both Rick and Morty, but Adult Swim fired him in January 2023. Adult Swim recast the roles for Season 7, but it wasn't until the premiere aired that the network made the names of the new actors public.
Rick Sanchez is now voiced by Ian Cardoni, who has previously done vocal work on promos for WWE, Apple TV+, and the Syfy series Resident Alien. Morty Smith is now voiced by Harry Belden, who Adult Swim fans might know from Joe Pera Talks With You.
Will There Be a Rick and Morty Season 8?
Rick and Morty was renewed for 70 more episodes back in May 2018, so there will be episodes through the end of Season 10 at the very least.