'Rick and Morty' Writer Reveals the Secret Origin of Mr. Poopybutthole
Fans dodged a bullet, literally.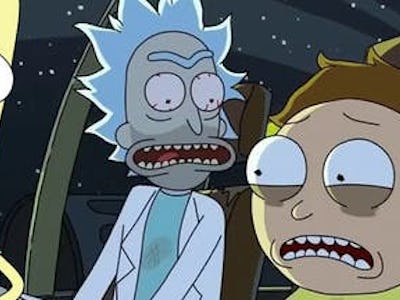 Warner Bros. Television Distribution
Popular TV shows tend to have breakout characters who start off with a short appearance in one episode. For Rick and Morty, that character would be Mr. Poopybutthole. In the original script, however, the writers had a different character in mind called Bullet Boy.
Mike McMahan, writer, and producer for the series, tweeted a picture of the old script for "Total Rickall," the first appearance of Mr. Poopybutthole. In the original cold open for the show, after Rick shoots the fake Jerry and explains that there's an alien parasite altering their memories, Bullet Boy chimes in rather than Mr. Poopybutthole. The character is described as "a bullet with goofy eyes, arms, and legs," which is much different than the top-hat wearing, "oo-wee" saying character Rick and Morty fans have fallen for.
"Spring cleaning today, came across the pre-outline beat sheet for Total Rickall, when Mr. Poopybutthole was briefly Bullet Boy. Crazy that this was 4 years ago," McMahan tweeted.
Since his arrival in "Total Rickall," Mr. Poopybutthole has made other appearances, although he's technically an alien injected into the other characters' memories. In an interview with Cinemablend last year, show co-creator Dan Harmon theorized the character is a different species of parasite that is not dangerous and simply lives in the holes of people's memories. Being such an advanced lifeform, Mr. Poopybutthole can also talk directly to the audience.
With the exception of a few cameos, Mr. Poopybutthole has become the de facto post-credits scene character for the season 2 and 3 finales, "The Wedding Squanchers" and "The Rickchurian Mortydate." With Rick and Morty Season 4 still in contract negotiations, who knows when fans will see him again.
McMahan also revealed that Mr. Poopybutthole was based on co-creator Justin Roiland's character Titty Longballs. Roiland tweeted out the image back in 2014 and it is very NSFW.