Exclusive: Prey Deleted Scene Reveals an Intriguing Abandoned Subplot
Hulu's Predator prequel, now available on physical media, once had a little more going on.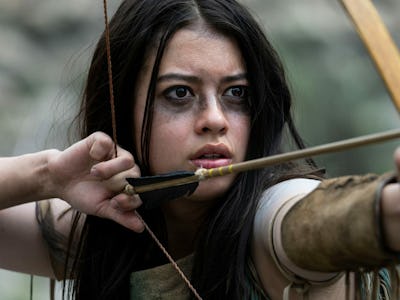 20th Century Studios
In the streaming era, nothing is guaranteed. Whole series can be pulled from platforms, rendered impossible to watch without much warning. It's happened on Max with Westworld, on Disney+ with Willow, and on Hulu with Y: The Last Man. That's why physical releases are so important: a Blu-ray is a tangible possession that can't be revoked.
Thankfully, 20th Century Studios has released one of their most popular Hulu exclusives on 4K, Blu-Ray, and DVD for you to own forever: Prey, the Predator prequel set in the 18th century. The film stars Amber Midthunder as Naru, a Comanche woman who faces off against an intergalactic foe, and opened to rave reviews last year.
Now, Inverse can reveal an exclusive deleted scene from the physical release's two hours of bonus features. In it, Naru helps a young girl from her village string her bow.
In the commentary included in the bonus features, director Dan Trachtenberg said this scene was meant to pair with another deleted scene where the chief is seen talking to his wife about how the band needs a new leader, setting up Naru's triumphant return at Prey's conclusion.
The scene also offers a bit of foreshadowing: we see Naru ask for a replacement string, then warn the girl that she needs to keep her bow clean. Later, when Naru faces off against a bear, her dirty, bedraggled bow snaps.
Without physical releases, deleted scenes and commentary like this would never be seen by fans. Hopefully, more Hulu originals start making their way to physical media, for the sake of fans and media preservationists alike.
Prey is now available on 4K, Blu-ray, and DVD, with over two hours of new bonus features.