"Alien From Another Planet." Why Nicolas Cage Was Born to Play Superman
A brief history of Nic Cage's lifelong obsession with the Man of Steel.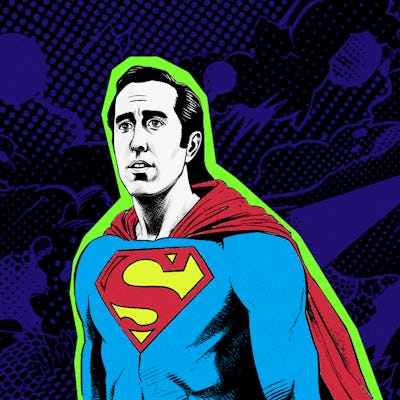 Dewey Saunders/Inverse; Getty Images
The classic superhero origin story goes like this: An outsider child feels like an alien — or perhaps is one — and yearns for transcendence. Nicolas Cage's origin story is no exception.
By his own account, Nicolas Coppola, as he was then known, was "a skinny, kind of weak kid who had a dream of being the Incredible Hulk." The youngest son of an academic father and a mother who spent much of his childhood institutionalized for mental illness, he often felt like a freak. The actor once told Movieline that, as a kid, he was surprised when he went to the doctor and they "didn't find that I had eight more ribs than I should have or that my blood was the color green."
The young Cage took comfort in comic books. At 6, as his family life slid into turmoil, he would retreat into what he later described as "an imaginary world where I could go to and be these other characters" — characters often inspired by superheroes. He was particularly drawn to superheroes who derived their strength from suffering. Like Superman, for instance, who arrives on Earth as a baby in a homemade spaceship after his parents die in the explosion that destroys his home planet of Krypton. The character's superhuman powers emerge from this trauma.
OK, maybe Cage's own backstory wasn't quite so dramatic. But in the early '80s, as the eccentric young star launched his career with memorable performances in the gang drama Rumble Fish (1983) and the high school classic Valley Girl (1983), he retained a deep connection to comic-book superheroes. Aiming to break out from his famous uncle's shadow, he dropped "Coppola" and took his stage name from Luke Cage, the Black superhero who derives supernatural strength from a cruel experimental procedure gone awry.
He also slipped in a subtle Superman homage in Valley Girl. In an early scene, Cage struts shirtless on the beach and gazes longingly at his Valley Girl crush (Deborah Foreman). His chest hair is shaved into a perfect "V."
The film's director, Martha Coolidge, had asked Cage to trim his chest hair because the hirsute 18-year-old looked old to be playing a high schooler. It was Cage's idea to trim it into a Superman-inspired letter.
It wasn't until the late '90s that Cage finally got a chance to play Superman — well, almost. For the better part of a year, circa 1997 to 1998, Cage was under contract to portray the Man of Steel in what Warner Bros. planned to be a $190 million blockbuster titled Superman Lives, perhaps the most legendary movie never made.
If the guy who swallowed a cockroach in Vampire's Kiss and karate-kicked to thrash metal in Wild at Heart seems like an odd pick to star in a big-budget Superman movie, consider that Michael Keaton wasn't exactly an obvious choice to play Batman, either. Consider, too, that Superman Lives was intended to be an alternative, very '90s take on the character. The film's flamboyant producer, Jon Peters, tapped Clerks filmmaker Kevin Smith to write a screenplay and — according to the documentary The Death of 'Superman Lives': What Happened? — gave him some oddball instructions. Peters didn't want Superman to fly or wear his iconic red and blue suit, and he insisted that Superman fight a giant spider (or "Thanagarian Snare Beast") at the climax.
Tim Burton, who had revitalized the Batman franchise for the Gen X era, came aboard as director. Smith was soon fired and replaced by screenwriter Wesley Strick (Cape Fear). And Cage, having just transcended his wacky cult-movie roots to become the big-muscled action hero of The Rock (1996) and Con Air (1997) — proving himself once and for all as a bankable star — accepted a $20 million salary to play Superman.
This should have been an intriguing collaboration. Burton had long been drawn to characters who were ostracized by society yet held some preternatural abilities: Lydia Deetz in Beetlejuice, Edward Scissorhands, and arguably Ed Wood. Cage, meanwhile, had a proven history of portraying misfits and damaged weirdos, from the baby-snatching ex-con of Raising Arizona to the depressive alcoholic of Leaving Las Vegas.
In other words, this wasn't going to be Christopher Reeve's Superman. Cage planned to lean into Superman's alienation and vulnerability and play the character as a "beautiful freak."
"Superman, to me, is a character who is a misfit," Cage told an Entertainment Tonight interviewer during the film's long development. "He's an alien from another planet, and he's trying to fit in. There's a lot you can do with those feelings of not being normal."
"Superman, to me, is a character who is a misfit."
He added that his interpretation of the character would have a positive effect on kids who feel alienated: "I particularly want to say to children, 'It's OK to be different.' Kids that are in class getting called weirdo, don't feel bad because, you know, Superman's a weirdo. He's from outer space… I think it'll have a lot of soul. That's what I'm going for."
Even the character's familiar suit would be modernized for the '90s. Veteran costume designer Colleen Atwood prepared a sleek, muscly costume that highlighted Cage's lean physique and nixed the corny tradition of Superman wearing underpants on the outside. On YouTube, you can find raw footage of Cage attending various costume fittings for the role. With his flowing Con Air hair, the actor struts around excitedly in the Superman suit as Tim Burton makes notes and shoots the shit. You get the sense that Cage is fulfilling a boyhood dream there.
And then… he didn't. As the film's shoot was delayed into 1998, studio executives grew concerned about its commercial prospects and sought to trim the budget. Ultimately, after sinking years and tens of millions into the flick's development, Warner Bros. brass pulled the plug on Superman Lives in April 1998, weeks before shooting was to commence.
The Nicolas Cage Superman performance became a permanent slice of Hollywood lore, the "one that got away" of Cage's filmography — forever fantasized about and discussed by movie nerds but never actually seen. It's possible that no aborted movie in Hollywood history has generated more conversation.
Cage licked his wounds and went on to star in two much darker films in 1999: the widely panned crime thriller 8mm and the underrated Scorsese gem Bringing Out the Dead. He also channeled some of his superhuman vulnerability into the disappointingly bland romance City of Angels (1998). According to some reports, he was still paid his $20 million salary for Superman Lives, thanks to a pay-or-play contract.
In the 2000s, as his career entered a decline, Cage did get to play a superhero, albeit a very different one: the supernatural stunt motorcyclist/soul hunter of Ghost Rider (2007) and its sequel, Ghost Rider: Spirit of Vengeance (2011). It's clear that part of his heart still belonged to Superman, though. In 2005, he even named his second son Kal-El, a reference to Superman's birth name.
In recent years, as his career has been revitalized by performances in indie gems like the revenge-splattered Mandy (2018) and the brooding Pig (2021), Cage's Superman obsession has come full circle. In 2018, he voiced a comical version of Superman in the otherwise limp animated comedy Teen Titans Go! to the Movies. "It wasn't really the version that Tim Burton and I had in mind, but it was just fun," Cage remarked at the time. (Curiously, the film also features Cage's son, Kal-El Cage, an apparent fan of the Teen Titans Go! series, voicing a young Batman.)
Then, earlier this year, Cage finally got a chance to play a live-action version of Superman. He appears in a brief yet tantalizing cameo in DC Studios' The Flash, which also finds Michael Keaton and, briefly, George Clooney reprising their roles as Batman. During the film's high-octane climax, a digitally de-aged Cage-as-Superman helps save the day, his eyes glowing bright red.
In a clever wink at Superman Lives, this sequence finds Cage, in full Superman garb, clobbering a gigantic spider — just like Jon Peters wanted.
Even Kevin Smith was impressed. "It's mind-melting," Smith conceded. "As much as I used to make fun of Jon Peters, that looked badass."
Inverse's 2023 Superhero Issue celebrates the unsung heroes of our favorite stories — in the pages of comics, behind the camera, and everywhere in between. Guest edited by Iman Vellani.