The 'Edward Scissorhands' Effect, 25 Years Later
Edward Scissorhands was an ironic, magical realism film both dark and whimsical. What did it spawn the last 25 years?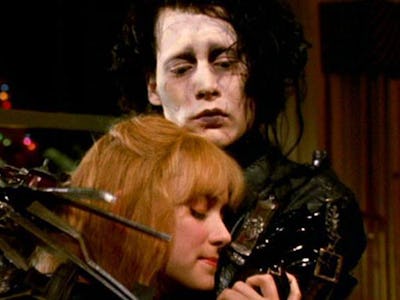 20th Century Fox
Edward Scissorhands is a fond memory for those who wish to recall Tim Burton's heyday, ignoring some of the more nauseating projects he's developed in recent years. The chemistry between real-life partners Johnny Depp and Winona Ryder bloomed on screen, the sets allowed Burton and his team to showcase a flair for the dark and the pastel and campy, and the stranger elements of the story were left wonderfully unexplored. How exactly did Edward work, and how much of him was human? It didn't really matter, and that worked.
Though Tim Burton's particular aesthetic led him astray more than once since Edward Scissorhands — Charlie and the Chocolate Factory, Corpse Bride, Alice in Wonderland, and Dark Shadows were all but insufferable — he had subsequent artistic moments of success with films like The Nightmare Before Christmas, James and the Giant Peach and 2014's pleasant surprise, Big Eyes. He never returned to the specific appeal of Edward Scissorhands, which was a fantastical, dark fairytale embedded into a straight-forward story about American suburbia and feeling like an outsider.
Films inspired by Edward Scissorhands have told similar stories, and Burton's influence on these strange, dark, and funny worlds is obvious. Laika, the hip Portland animation studio that produced Coraline turned to Henry Selick, who had directed Burton's The Nightmare Before Christmas and James and the Giant Peach. Selick brought some of Burton's signature tone with him, and Coraline, though imperfect, was just as chilling and charming as the best moments in Edward Scissorhands.
Laika has also produced the shadowy and sentimental The Boxtrolls and ParaNorman, an engaging film which was both underrated and the most direct descendent of Burton's Scissorhands aesthetic. It followed the film's pattern, juxtaposing frightening imagery with domestic settings, and in its climax chose the opposite path Burton took in Edward Scissorhands. At the end of Burton's film, Edward and his accompanying magic is quarantined to the top of the mountain near the cul-de-sac. At the end of ParaNorman, contrarily, the ghosts are able to peacefully coexist with the inhabitants of Blithe Hollow.
Since Burton has more or less left the frame, who has picked up his mantle? Guillermo Del Toro rose to fame in the two decades which have passed since the release of Edward Scissorhands, perhaps claiming the magical-realism, dark-fairytale crown from Tim Burton in that span his earlier films — Cronos, Mimic, and The Devil's Backbone — leaned too far into the horror genre to be considered cousins of Burton's filmography, but the films he directed in the post-Edward 90s and 2000s include Hellboy, Pan's Labyrinth, El Orfanato, and Crimson Peak, which are each certainly borne of Edward's aesthetic. Though Del Toro has outshone Burton as a storyteller, he does owe a great deal to the game-changing tonal shifts in Edward Scissorhands.
Like Del Toro, French director Jean-Pierre Jeunet's work is akin to Edward Scissorhands as well, and films like The City of Lost Children and Amélie pair sensations of whimsy and dread in a way that feels similar to Burton's film. The way Amélie responds to music in the face of her loneliness echoes Kim Boggs dancing in the snow created by Edward's fast-moving blades. Jeunet, like Burton, appreciates his heroine's innocence in a world which threatens to damage, or consume her.
Perhaps the most modern example of someone wearing Burton's influence on their sleeve is the Korean director Bong Joon-Ho. Joon-Ho began his career making large-budget monster movies (2006's Gwoemul) and thrillers (2009's Mother), his first film starring American actors in English was a stunning metamorphosis. 2013's Snowpiercer was a disturbing, emotionally ravaging apocalyptic fairytale set on a train, and though the film employed more suspense than Edward Scissorhands, it presented certain violent characters with glee. One scene, in which the starved and bloodied heroes make their way through a children's schoolhouse on their quest to kill the train's conductor, feels like an homage to Edward standing in the Boggs' pastel home.
For the last twenty five years, many films have attempted to capture the magic bottled in Edward Scissorhands. Though the film's director hasn't quite been able to measure up to the film's artistic success in the 2000s, the influence of Edward and his melancholy story is still apparent in contemporary cinema. Many storytellers, especially those writing contemporary fairytales, owe Edward a debt.