25 years ago, Nicolas Cage made the most bombastic crime thriller ever
Cage was prolific in the late '90s, but one movie, in particular, redefined the entire action genre.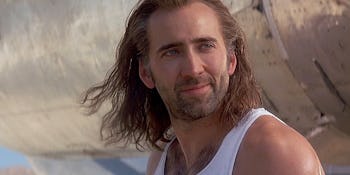 As editor Glen Scantlebury and director Simon West were completing their edit on Con Air, the pair assumed they were just putting the finishing touches on Nicolas Cage's latest bombastic blockbuster. But legendary producer Jerry Bruckheimer quickly realized it was still missing an important element.
"The original movie just ended on the Las Vegas strip," Scantlebury tells Inverse. "Jerry decided that we needed another ending on the ending,"
The decision was quickly made to add a sequence where the villainous Cyrus The Virus (John Malkovich) and Swamp Thing (MC Gainey) break out of the titular stolen plane and are chased through Sin City by the heroic duo of Cameron Poe (Nicolas Cage) and U.S Marshal Vince Larkin (John Cusack).
"That's one of the things that started to happen in the 1990s," Scantlebury says. "Jerry helped to develop the idea that you think the film is going to end and then there's another ending."
So, in April 1997, just two months before Con-Air's June 6 release date, West, his crew, and the cast were back on set.
"I remember Simon saying, 'I thought I was done with this,'" says Scantlebury. "But that was just the evolution of making an action picture. Jerry knew you had to make sure the film went that one step further."
It wasn't a surprise that Bruckheimer was given such control on Con Air. Not only had the success of Flashdance, Beverly Hills Cop, Top Gun, Days of Thunder, Bad Boys, Crimson Tide, and The Rock made him the most successful producer of the last 15 years, but Con-Air was his first film without his legendary producing partner Don Simpson, who died on January 19, 1996.
"Simpson didn't want to make this movie," recalls Chris Lebenzon, the second of three editors who worked on Con Air alongside Scantlebury and Steve Mirkovich. "I think he was concerned about it being full of antagonists and didn't know whether it could be sustained for a whole film."
On the face of it, Simpson might have had a point about Con-Air's plot. After accidentally killing one of the men who had attempted to assault his pregnant wife Tricia (Monica Potter), Poe serves eight years in prison. Following his parole, he boards a prison transport plane alongside a number of incredibly dangerous criminals. These include armed robber Pinball (Dave Chappelle), pedophile Garland Greene (Steve Buscemi), serial rapist Johnny 23 (Danny Trejo), black nationalist Diamond Dog (Ving Rhames), and the highly intelligent, but equally psychotic, Cyrus.
Soon after take-off, the prisoners violently take over the plane and Cyrus reveals their plan to fly it to freedom. It's left to Poe to thwart Cyrus, and he secretly works with Larkin to get Con-Air back on the ground. All so he can reunite with Tricia and finally meet his daughter, Casey (Landry Allbright).
Bruckheimer always saw the potential in Con Air. So much so that, in order to make sure it reached its cinematic zenith, he "oversaw everything" about its production, says Lebenzon. He achieved that by bringing "the best people to the party so that they can make the film better and better." He took major risks to ensure Con Air was as outrageous, chaotic, and fun as possible. First and foremost of which was the hiring of West as its director.
"He [gave] $80 million to a first-time director," says Scantlebury.
Before Con Air, the English director had only made commercials and music videos. But, much like Michael Bay before, who Bruckheimer entrusted to direct 1995's Bad Boys, West took to feature films with aplomb.
"You have to hand it to Simon," says Scantlebury. "He really directed a great first picture. He put the camera in the best places and created images that are burned into your brain."
It also helped that West had one of the greatest casts in the history of the action genre at his disposal. At the top of the call sheet was Cage, who was arguably in the prime of his career. After picking up the Best Actor Oscar for Leaving Las Vegas in March 1996, he followed it up with the huge box office success of The Rock in June of the same year.
Lebenzon believes it was Cage's "genuine nature" that made him so appealing to film fans. "He's just a regular guy. But he had so much depth to him that it made him identifiable."
When asked about filming with Cage, Potter remembers, "I was so nervous. The first scenes we shot together were really tough. But that was because we kept on laughing at one or two words the actor starting the fight said. Nic was just really fucking funny. Really dry."
Once again, though, it was Bruckheimer who recognized how a strong ensemble could elevate the blockbuster to another stratosphere of entertainment. According to Scantlebury, he had to "pay big money" to get in the likes of Malkovich, Cusack, Buscemi, Rhames, Trejo, and Chappelle. But was more than willing to do so. Although, during post-production, Bruckheimer quickly realized that there's a fine art to balancing out the screen time of such an esteemed ensemble.
"When we first screened it, there were four scenes where Buscemi's character leaves the airfield after the plane has crash-landed and he runs into the little girl at the pool," says Scantlebury. "At that moment, everyone in the audience stopped caring about the convicts. They just wanted to know what Buscemi was going to do. I remember Jerry came in afterward and said, 'We have to get rid of three of those scenes because nobody cares about the rest of the movie.'"
MC Gainey credits Scott Rosenberg's script for making "all of the characters that are supposed to be the villains so lovable." Lebenzon adds, "That's another one of the things Jerry did really well. One of the things he was always stressing in his movies was the humor. He always thought it was really important in an action picture. He always thought that comedy was what drove his action movies to be big box office successes."
In today's terms, Con-Air's box-office haul of $224 million for a $75 million budget might seem rather measly. It even only has a score of 56% on Rotten Tomatoes. But, in the years since its release, thanks to its various home-video releases and its constant rotation on cable, Con-Air's reputation has only grown. 25 years after it initially hit theaters, audiences still can't resist its delightfully over-the-top action, which means that, even after a plane crashes into the Las Vegas strip, there's still time for more violence and thrills.
Gainey continues to live in hope that, one day, there might be a chance for him to top Con Air. An idea for a follow-up even once came to him in a dream. "I saw a story in a newspaper and then had a dream that the film could be about three ex-convicts who steal a white van and escape. I pitched it one time to Rosenberg. He said, 'It's a great idea! Once you've raised some money, let's do it.' I'm surprised they never tried to do a sequel. The original just continues to live on. It never fades for fans."