Netflix's Scott Pilgrim Anime Looks Like a Remake — Despite What Edgar Wright Says
Edgar Wright and creator Bryan Lee O'Malley are reuniting with nearly the entire original film cast for a Netflix reunion.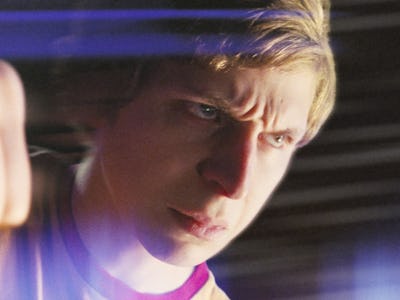 Big Talk Productions/Kobal/Shutterstock
Sex Bob-Omb is coming back to make you feel sad about death and stuff!
Thirteen years after Scott Pilgrim vs. The World hit theaters with a killer cast and ADHD-powered filmmaking, director Edgar Wright is reteaming with creator Bryan Lee O'Malley — and writer BenDavid Grabinski — to basically remake the cult 2010 film as an anime.
Announced via Netflix's social media on March 30, a Scott Pilgrim anime is in development with virtually the same folks from the movie. This includes leads Michael Cera, Mary Elizabeth Winstead, Ellen Wong, and Kieran Culkin, plus Jason Schwartzman, Anna Kendrick, Brie Larson, Chris Evans, Brandon Routh, and more.
Animation duties will be handled by Science SARU, an award-winning studio known for shows like DEVILMAN crybaby, the 2017 Masaaki Yuasa film Lu over the wall, and even the opening to Adventure Time. Chiptune band Anamanaguchi, which composed retro game-style music for the equally celebrated video game, will compose music for the series.
"We're getting the band back together!" said O'Malley and Grabinski in a statement. "We can't wait for fans and newcomers alike to see what we and our partners at Science SARU have been cooking up. It's going to be a wild ride."
In his own statement, director Edgar Wright hints that the project may divert from outright remaking the movie to follow its own story or perhaps closely adapt O'Malley's original Scott Pilgrim comic book series.
"One of the proudest and most enjoyable achievements of my career was assembling and working with the dynamite cast of Scott Pilgrim," Wright said. "Since the film's release in 2010 we've done Q&A's, remembrances and charity read throughs, but there was never the occasion to reunite the whole gang on an actual project. Until now."
Wright says O'Malley and Grabinski "have conjured up an anime series of Scott Pilgrim that doesn't just expand the universe, but also … well, just watch it. I'm more than happy to announce that I have helped coax the entire original cast back to voice their characters on this epic new adventure. You are in for a treat."
The Scott Pilgrim series began as a series of graphic novels released by Oni Press between 2004 and 2010. The story centers on the title protagonist, a slacker and bassist for a Toronto punk band. When Scott falls for a new girl in town, Ramona Flowers, he must defeat her evil in one-on-one showdowns before he can win the right to date her.
The film version, directed by Wright, was released in 2010, and spiritually captured the precise moment when geek and indie culture held hands. While the movie drew buzz at film festivals and Comic-Con, the movie struggled at the box office against bigger blockbusters like The Expendables. Still, the movie won a cult following almost immediately after its release. In 2020, the cast reunited on Zoom during the pandemic, and in 2021 the movie was remastered and re-released in theaters.
While Scott Pilgrim tells a story that struggles to scan today and beyond the perspective of a straight man trying to woo the manic pixie girl of his dreams, both O'Malley's comics and Wright's film still contain sublime execution that make them worth revisiting even now. Perhaps an anime will update the story. And if it doesn't, well, at least we're getting more music from Anamanaguchi.
There is no release date yet for Scott Pilgrim. The Anime.