Thor: Love and Thunder director teases a huge Thor 5 spoiler
Natalie Portman is back as Jane Foster to wield the hammer Mjolnir in the MCU. But is she on long-term duty?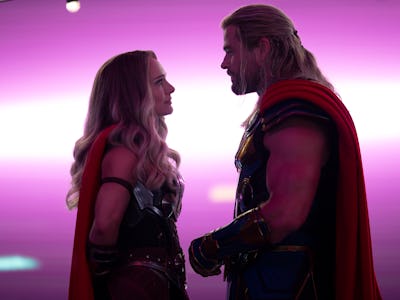 Marvel Studios
Sometimes you have to admire the way franchise filmmakers dance around precious spoilers.
In this instance, it's Thor: Love and Thunder director Taika Waititi doing the no-spoilers boogey around the long-term status of Natalie Portman's return to the Marvel Cinematic Universe as Jane Foster — and the new Thor.
If you read Waititi's words closely, it appears Portman isn't wielding the hammer for too long. But that doesn't mean fans should rule out a future for the Goddess of Thunder.
What Happened? — In an interview with Total Film (via GamesRadar), director Taika Waititi hints that the next Thor movie, Thor: Love and Thunder, will follow the story of Jason Aaron's Thor comics aside from one detail: Jane Foster's permanent status as the God of Thunder.
"We stick pretty closely to Jane's storyline, and what happened to Jane," Waititi told the magazine. "Because that was such an influence on the film. We're trying to take the best parts of that."
One of the "best parts" of Jason Aaron's Thor was indeed the ascension of Jane Foster as a superhero in place of Thor Odinson, who became "unworthy" and wandered the cosmos for a time. But Waititi says that Jane Foster's role as a superhero isn't set in stone, at least in the way fans might assume.
"It's the idea that someone's taking his place. I think a lot of fans are gonna potentially assume, 'Oh, OK, this is the passing on of the torch.' I'm not privy to any plans Marvel has for the future, but I don't think that's the case."
Hammer Time — Because of the multiple ways Thor: Love and Thunder is taking after the Jason Aaron comics, not to mention the fact that Hemsworth is leaving the franchise after Love and Thunder, it's long been assumed that Portman is taking over for Hemsworth. That could mean starring in a new trilogy of Thor movies, and co-starring in future Avengers sequels.
But now, with Waititi hinting that Marvel's plans may actually be different, fans shouldn't expect Portman to fulfill the same obligations that Hemsworth had during his time in the MCU. Not yet, anyway, because there are many factors pushing against Portman as Thor long-term.
First, there's the existing friction between Marvel and Portman, and the reason the two parties split in the first place. Second, there's the question of whether Portman wants to carry a multi-million dollar action franchise for a decade.
Around 2011, after Portman sought a break from acting to focus on motherhood, Portman and the studio wound up at odds after Patty Jenkins — a filmmaker Portman championed to helm the second Thor — departed from directing 2013's Thor: The Dark World. The job went to Alan Taylor, who's since expressed unhappiness over the final cut. After Portman fulfilled her obligations for The Dark World, she left the franchise for years. In a 2017 chat with the Wall Street Journal, Portman verbally doubted she'd ever return.
Then in 2019, Portman resurfaced on stage at San Diego Comic-Con. With an amused grin, Portman held up Thor's hammer before a capacity crowd to signify her return. But no one said how long it will be for.
Portman hasn't publicly said much about her future with Marvel. She's already an accomplished actress, and CG-heavy movies like Marvel's are famously difficult to make. Between the unbearably long hours and inhuman physiques to maintain, don't believe anyone who says they don't do these projects for the money.
But there's a reason Portman came back in the first place. The actress told ET Online in 2019 she returned on the basis of the script, and the expanded role of Jane Foster beyond the male lead's human love interest. No matter how many Oscars you have, a good script is still a good script.
The Inverse Analysis — The big picture for Marvel's Phase Four has been hard to figure out. Without an overarching story like Thanos and the Infinity Stones in place, it's unclear what will unfold for the MCU over the next few years.
Because the future of the MCU itself is uncertain, it's hard to guess what Marvel's intentions are for Jane Foster becoming Thor if it's not to pick up where Hemsworth will leave off. Portman could potentially lead a new Thor trilogy, if both she and Marvel can agree on terms. Or she could play support in an Avengers sequel, where she alone doesn't have to bear the full responsibility of headlining an expensive movie.
Natalie Portman has the power. It's up to her to decide what she wants to do with it.
Thor: Love and Thunder will open in theaters on July 7.