Ms. Marvel Episode 2 reveals a tragic backstory — the comics go even deeper
Episode 2 of the Marvel series touches on the traumatic partition of the Indian subcontinent in 1947.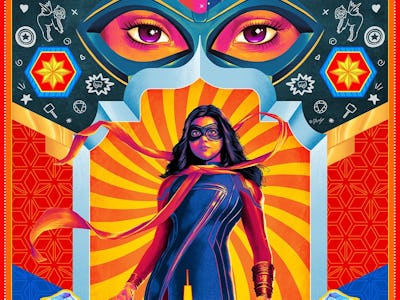 Despite changing her powers to look better in live-action, Marvel Studios has remained faithful to Kamala Khan's (Iman Vellani) canonical comic book origins. This important decision required touching on the 1947 Partition of India, a real-life historical event that prompted Kamala's family to move from Mumbai (then Bombay) to Karachi, and eventually, Jersey City.
Kamala is fascinated by this history, but most of her curiosity stems from a yearning to discover how and why her grandmother, Naani, came into possession of the cosmically-charged jewelry that is awakening her latent powers. Her brother, Aamir (Saagar Shaikh) takes the opportunity of a celebratory dinner to tell his soon-to-be wife, Tyesha Hillman (Travina Springer), a bit about the Khans' history— while Mr. Khan's (Mohan Kapoor) family had already been settled in Karachi for centuries, Mrs. Khan's (Zenobia Shroff) family had found itself suddenly displaced and unwelcome in 1947, scrambling to find a home within their former home, as a result of The Partition.
The Partition, which divided a newly independent India into India and Pakistan, spurred one of the largest refugee crises in world history and sparked widespread violence along religious and ethnic lines. Paranoia and hostility continue to impact the relationship between the two countries today.
Much to Kamala's dismay, Mrs. Khan halts Aamir's recounting of her family's migration to Karachi, but the Ms. Marvel comics reveal the full story of Kamala's heritage.
How did Kamala's family wind up in Karachi?
In the Ms. Marvel comics, we learn that Kamala's great-grandparents (Kareem and a pregnant Aisha) fled Bombay amid the post-Partition violence after their mosque was burnt to the ground with its imam still inside. Kareem's father refuses to call himself a Pakistani — he still considers himself an Indian — while Aisha is heartbroken that her child will have to start a life "thousands of miles away from everything I've ever known."
Aisha prays that her child will never have to face the ugly truth that "neighbors, friends, can be turned against each other." As she speaks, a shooting star flashes across the sky. Aisha says that from the moment Naani was conceived, she felt the baby came from "somewhere beyond the fallen stars."
In order to further protect her child in case of separation from Kareem, Aisha sold all her jewelry and smuggled the money in her wedding bangles. It's still unclear why Aisha was considered traitorous and a "snake," or why Kamala's mom doesn't get along with her own mother and complains that, like Kamala, she was too much of a daydreamer.
"Even in the midst of civil war, life can begin again," Aisha narrates. "Sometimes there is very little hope. But, there is never no hope. Something, however small, remains."
How did Kamala's family end up in Jersey City?
The Khans' journey from Karachi to Jersey City is far less dramatic, but no less impactful to Kamala's identity. Like many foreigners who now call America home, Kamala's parents Yusuf and Muneeba moved to the United States in search of better opportunities. Pakistan-born and straight-edged, Kamala's older brother Aamir is the golden boy of the family, while Kamala's Westernized fangirl obsessions and outspokenness are at odds with her traditional upbringing.
In both the comics and in the Marvel Studios series, Kamala is proud of her Pakistani heritage and Muslim faith, but her overbearing family makes her feel misunderstood. This makes Kamala more empathetic toward other children of immigrants. Her two best friends are Nakia Bahadir (Yasmeen Fletcher), a Turkish-American Muslim, and Bruno Carrelli (Matt Lintz), who lives with Italian grandparents who struggle to make ends meet while his parents are out of the picture.
The Inverse Analysis— Ms. Marvel viewers familiar with the comics (or history) have wondered whether this firmly PG-series will display the blood and grief of the Partition in flashbacks, or if the brief conversation about it at the dinner table in Episode 2 is as much as the show is willing to touch the sensitive and complex subject.
Aisha is a crucial figure in Kamala's backstory, and Kamala's brief glance at her great-grandmother's escape (prior to blacking out), may suggest that a more fleshed-out migration montage is on the horizon. While Marvel may not get graphic, the anger and violence of the Partition, which displaced nearly 20 million people and lead to an estimated two million deaths, is an important subject that Marvel should be capable of handling delicately.
For now, we'll just have to wait and see what Kamala learns about her family's legacy next.
Ms. Marvel Episodes 1-2 are available to stream on Disney+