Moon Knight writer explains why Mister Fantastic should be "a badass" in the MCU
The head writer of Marvel's Moon Knight also wrote the 2015 Fant4stic, and still has thoughts about the perfect onscreen Reed Richards.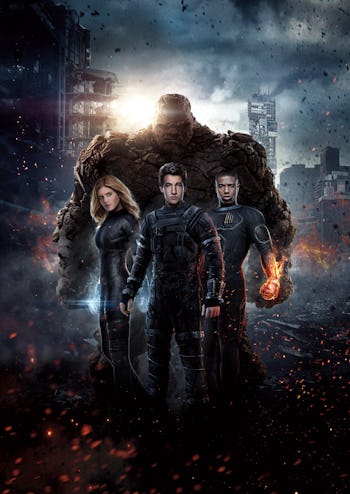 Reed Richards has now been played by almost as many actors as Batman and Spider-Man, and yet the character remains seemingly impossible to translate from the comics.
Often depicted as the brainy patriarch to Marvel's Fantastic Four, Richards — aka Mister Fantastic, who has the power to stretch his body like silly putty — has undergone an array of personality tweaks in the hands of various writers. Most of the time, Reed is usually too smart for his own good and too clueless to care about the consequences.
Jeremy Slater, head writer of Marvel's Moon Knight, also wrote the beleaguered 2015 reboot Fantastic Four, helmed by Josh Trank. While Slater's script was doomed, Slater told Inverse about his passionate feelings for a character who's gained new fans following his appearance in Doctor Strange in the Multiverse of Madness, where he was played by John Krasinski.
Reed Richards, the Badass Explorer
"I can only speak for the version I was excited to write way back in the day. And clearly, we've all seen that movie," says Jeremy Slater. "We've all seen how it turned out."
2015's Fantastic Four, comically stylized by the studio as Fant4stic, starred Whiplash lead Miles Teller as Reed Richards. It was the third Fantastic Four film to open in theaters, after 2005's Fantastic Four and its sequel, 2007's Fantastic Four: Rise of the Silver Surfer, where Ioan Gruffudd brought a comparatively more paternal voice to the role.
In contrast to the light action-comedies of the 2000s, which resemble the tone of the MCU, Fant4stic was approached as a darker movie. Trank claimed influence from body horror auteur David Cronenberg.
Slater, though, was inspired by comic book writer Mark Waid. "The version that I was initially drawn to, and was most heavily inspired by, was the Mark Waid Imaginauts run," Slater tells Inverse. "I always thought he wrote the coolest version of Reed."
In 2002, Mark Waid and artist Mike Wieringo embarked on a legendary run on Marvel's Fantastic Four comics in an effort that's retroactively been called "iconic" by GamesRadar in 2021. Though Waid kept up a lot of the series' inherent comedy, he also challenged the Fantastic Four by splitting them up.
Waid also wrote a vastly different Reed Richards than writers before him, which Slater resonated with. "Reed has always traditionally been viewed as a sort of fuddy duddy, the guy who's got his head buried in gizmos while Sue is running off to date Namor," Slater says. "Reed is always presented as a clueless grandpa. The thing I loved about Mark Waid's interpretation of Reed Richards was that he was a badass, an explorer, an adventurer."
Slater also tells Inverse about his pitch to Fox. "If a giant portal opens up in Central Park, Spider-Man, the X-Men, and The Avengers, they're all going to wait to see what comes through. Reed Richard is going to sprint right past them. He's the first person to run through that portal to see what's on the other side."
The Moon Knight writer compares Reed Richards to astronauts, and their inherent sense of adventure regardless of the risks.
"They're challenging the limits of what's out there," he says. "For me, that was always the coolest version of the character. That was always the aspirational [image] I want to see in a Fantastic Four. It's not a bunch of science nerds hanging around the Baxter Building. It's fearless explorers going to the limits of our solar system and beyond, and facing the cosmic weird shit no one else would ever have a chance of stopping."
Now that Marvel Studio has regained the rights to the Fantastic Four, another reboot is coming.
"I have no idea what they're doing with the character, but I can only speak for myself as a Reed Richards fan, just make him cool," says Slater. "He doesn't have to be a grandpa."
Moon Knight is streaming now on Disney+.