Mission: Impossible — Dead Reckoning Is Gambling With a Tricky Hollywood Trend
You can't spoil an ending if it doesn't exist yet.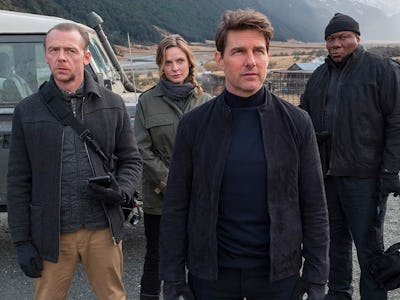 Paramount
Two-part film sagas are enjoying a resurgence. While the trend seemed to die with The Hunger Games, Harry Potter, and Twilight sagas (and their many, many copycats), Hollywood's longstanding action franchises are attempting to revive it, so 2023 has been the year of the two-part finale.
The Fast & Furious saga peeled back into theaters with the first of a closing duology that might have expanded into a trilogy. Spider-Man: Across the Spider-Verse confounded fans with a shocking cliffhanger. Now, the Mission: Impossible franchise is the latest to adapt the two-parter trend with Dead Reckoning Part One and Part Two.
The first half of the story is set to premiere in July 2023, with Part Two following a year later. There's a chance Part Two may wrap up the adventures of Ethan Hunt (Tom Cruise) once and for all, but Ethan's fate is still in the air. Not because Cruise and writer-director Christopher McQuarrie are keeping things close to the chest, but because Dead Reckoning doesn't even have an ending yet.
McQuarrie recently spoke to Collider at the Rome premiere of Dead Reckoning Part One, where he addressed the challenges of tackling a film in two parts. "With all the other challenges that were confronting this movie while we were making it, there was the challenge of stopping in the middle, not even knowing what the full movie was," McQuarrie said. The team was apparently tasked with "predicting" the ending for Dead Reckoning Part Two, and while it seems like the bones are there, the end could change by the time the film is finished.
"I could tell you that I know what the end of Part Two is, but I can't guarantee that that will be the ending when we get there," McQuarrie said.
Mission: Impossible films are unwieldy beasts. Cruise and McQuarrie typically begin by planning the action set pieces they want to feature, then build a story around that. Mission: Impossible — Fallout began shooting without a finalized script, only an outline, and that didn't hinder its success. The M:I brain trust is big on finding the film as they go, but Dead Reckoning is more than one self-contained story. Given that it's split across two sprawling films, and with no ending mapped out, things could get messy for the franchise's potential finale.
That's not to say that McQuarrie is flying blind. "You are definitely flying in a direction, you're definitely prepared," the filmmaker said. "These things are planned within an inch of their life. Along the way, we see a shiny object and go for it."
Given the success McQuarrie and his team have brought to the franchise already, Dead Reckoning Part One and Part Two are likely in good hands. So long as Part One doesn't feel like one half of a five-hour movie, as Dune: Part One and Spider-Man: Across the Spider-Verse unfortunately did, the Dead Reckoning films should be able to stick the landing.
Mission Impossible — Dead Reckoning Part One hits theaters on July 12.