Mission: Impossible — Dead Reckoning Trailer Reveals How the Franchise Could End
Can these films go on without their leading man?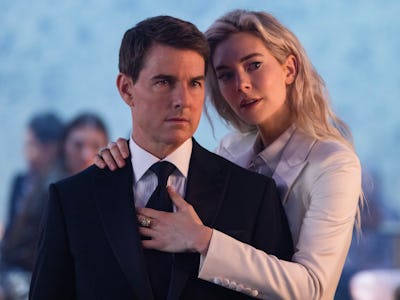 Paramount Pictures
For decades, Tom Cruise has been Hollywood's most unstoppable force. Though he's picky about the projects he signs on to, the Mission: Impossible films are the one constant of his long career. But that might change with Mission: Impossible — Dead Reckoning Part One. The 2023 film has been in the pipeline since 2019 which, after a barrage of pandemic-related delays, has felt like a lifetime. And now that a release date is finally in our sights, it seems like the M:I saga may actually be gearing up for the end.
Dead Reckoning Part One is the first of what may be a finale for the Mission: Impossible franchise. Dead Reckoning Part Two is scheduled to hit theaters in June 2024, and while it's too soon to tell whether Cruise will team up with longtime collaborator Christopher McQuarrie for another round after that, there is a sense of finality to the upcoming film.
The Part One trailer isn't giving too much away. We get a sense of the thrills to come, including a show-stopping train scene and multiple shots of Cruise's signature sprint, but plot details are still vague. We do know that Cruise's Ethan Hunt will face off against an insidious, possibly omniscient threat that knows Ethan's past, present, and future. According to Dead Reckoning's yet-unnamed antagonist (portrayed by Esai Morales), Ethan's fate is written. Knowing Ethan, though, he'll stop at nothing to take things into his own hands.
Dead Reckoning will double down on Ethan's need to protect everyone, especially those closest to him. In past installments, his "ultimate objective" is the very thing that's allowed him to save the world, but it may also become his biggest weakness. No member of Ethan's team is safe in Dead Reckoning, and each acknowledges that they may have to lay down their lives to defeat this mysterious Big Bad. Ethan, of course, can't accept this, which may bring him face to face with the one challenge he can't walk away from.
Again, it's a bit too soon to tell, but Dead Reckoning could be teasing Cruise's official departure from the franchise. If the threat the Impossible Mission Force is facing proves too great, Ethan may have to make the ultimate sacrifice. But this wouldn't be the first time Cruise has tried to say goodbye: remember Mission: Impossible — Ghost Protocol? The 2011 film was designed as a farewell for Ethan Hunt as an IMF agent, and a vehicle for a new agent to take his place. This was when everyone was trying to make a leading man out of Jeremy Renner, an approach that didn't take.
It's now hard to imagine the M:I films going on without Cruise, especially given his relationship with McQuarrie. Dead Reckoning may therefore close the book on the franchise altogether, rather than try to find another replacement for Ethan Hunt. It turns out that replicating Tom Cruise's star power may be the most impossible mission of all.
Mission Impossible — Dead Reckoning Part One hits theaters on July 12.