The Mandalorian Theory Disproves a Massive Season 3 Finale Prediction
Maybe the Armorer's not so bad after all...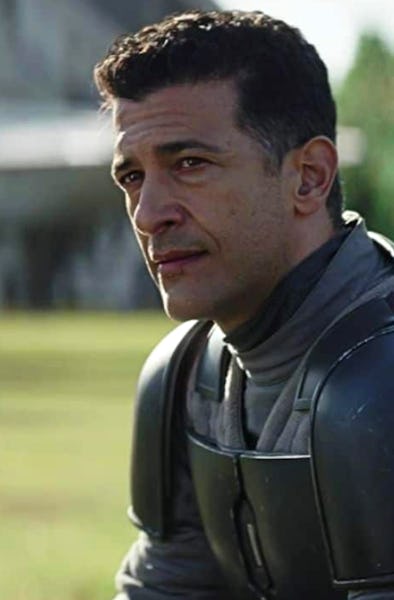 Ahead of The Mandalorian Season 3 finale, one huge question looms over our heroes: Who's the traitor among the Mandalorians? Episode 7 ended with the good guys falling for a trap on the planet Mandalore and Din Djarin captured by the Empire. But who them him up?
So far, all the fan theories seem to point to one of several heavily favored options. But is it possible we're totally misreading The Mandalorian Episode 7 and its mysterious title ("The Spies")? A new theory reveals why we're actually asking the wrong question entirely.
The Mandalorian and "The Spies"
After Mandalorian Season 3 Episode 7, pretty much everyone seems to agree that the episode title is hinting at an Imperial spy among the Mandalorians. And there are a few obvious options:
The Armorer: Not only has she always seemed shady, but the Armorer has much to gain from betraying Din Djarin and retaking control of her cult. Plus, she was conveniently off-planet when the Empire attacked on Mandalore.
Axe Woves: Bo-Katan Kryze's former (and current) follower also made a quick exit during the attack on Mandalore. He notably has a reason to betray Bo-Katan after she challenged him to retake control of their clan and won.
The new Mandalorians: In Episode 7, our heroes encountered a group of Mandalorians still living on their home planet who offer to help and then immediately lead them into a trap. Was it bad timing or something more sinister? We don't know much about these characters, but they could have plenty to gain from siding with the Empire.
It seems likely that one (if not all) of these characters are the spies in The Mandalorian (alongside Elia Kane, of course), but maybe that's not what the title meant at all. Another reading of "The Spies" could reveal a completely different meaning...
A different Mandalorian theory
As noted by redditor u/doctorzaga20, the Mandalorians often seem to serve as a metaphor for the Jewish people. Both groups were exiled from their home and forced into diaspora. Both groups were then further ostracized and mistreated in their new homes. It's not a perfect comparison, but Din Djarin seems to confirm a connection when he declares in Episode 7: "All of our history, we were on the verge of extinction."
So why does this matter? Well, u/doctorzaga20 points out that in the Jewish Bible, when the tribes of Israel return to their promised land after escaping Egypt and wandering in the desert for 40 years, they don't just walk up to the front door and knock. Instead, they send spies to scope out the situation.
The Mandalorians are in a similar spot. They want to return to their home planet of Mandalore, but they're not sure it's safe. So Bo-Katan leads an expedition to reclaim the planet. Is it possible those are the "spies" the Episode 7 title is referring to? In other words, maybe there's no traitor at all and "The Spies" is just a biblical reference.
It may seem like a stretch, but the Judaism-Mandalorian comparison has been made plenty of times before. So we shouldn't ignore it now.
Crucially, if this theory does turn out to be true, it may mean all those other theories about the Armorer and Axe Woves being traitors could be totally wrong. And considering the tough spot Din Djarin is currently in, that's probably for the best. Mando needs all the help he can get right now.
The Mandalorian is streaming now on Disney+.