Mandalorian Episode 8 Runtime Might Disprove a Tragic Finale Theory
The Star Wars series comes to a close with a runtime that confirms the series' new normal.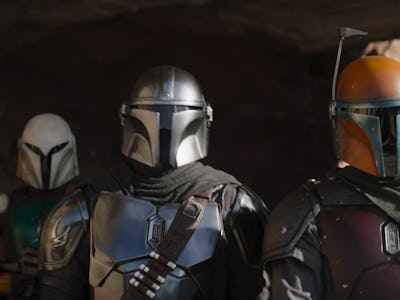 Lucasfilm
The Mandalorian Season 3 has been a game-changer — not only in its content, but in its plot that centers Bo-Katan as the prophesied "chosen one," and in its redefinition of the title itself. But most game-changing of all has been its episode runtimes. After a wildly varying first half of the season with episodes ranging from a sparse 30 minutes to almost an hour, the latter half settled on a 35-45 minute range, echoing the length of the hour-long dramas that came before it.
But don't expect a special double-length episode just because it's the final episode. The runtime for this episode is bog-standard — but that may actually be a good thing for Mandalorian fans.
According to Redditor DiamondFireYT, the runtime for the episode is about 39 minutes before credits (and whatever post-credits scene we may see.) While we've never heard runtime leaks from this user before, they claim to have the same source as CrypticQual4K on Twitter, who has correctly predicted every runtime in Season 3.
This is the perfect length for a season finale. Not too short, so it will seem like it's rushed, but not so long that it will drag. Also, if the show were to kill off a major character like Din or Grogu, it's likely the episode would be longer to account for such a drastic and emotional moment. A normal-length episode hopefully means a normal amount of loss.
That said, the episode is still part of a bigger story. Episodes 7 and 8 are both directed by Mandalorian Executive Producer Rick Famuyiwa, and with Episode 7 ending on a cliffhanger, it looks like this will not be a 39-minute finale but the second half of an 80-minute adventure, something The Mandalorian has earned in its three seasons.
Interestingly, the leaked runtime is the exact length of the Season 2 finale, which was also preceded by a cliffhanger. "The Rescue" was well-paced, action-packed, and still managed to pack an emotional punch at the end. It's likely that Season 3 will end in a similar fashion. After all, if it ain't broke, Lucasfilm shouldn't have to fix it.
The Mandalorian is now streaming on Disney+.