The Mandalorian Season 2: Release date, cast, trailer, directors, Ahsoka rumors
This article about The Mandalorian Season 2 was published on January 7, 2020, and updated on October 10, 2021.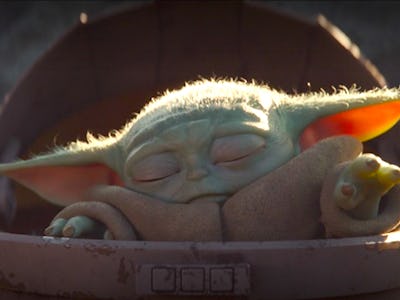 Lucasfilm
The Mandalorian was a huge success when it premiered on Disney+, and the conclusion of the Skywalker Saga of flagship Star Wars movies means we're laser-focused on this rough and tumble spinoff. We knew Mandalorian Season 2 was in the works since before the Season 1 finale. In 2020, the season released, bringing further adventures of Mando and Baby Yoda (even revealing the latter's actual name).
Here's everything to know about The Mandalorian Season 2.
When was The Mandalorian Season 2 release date?
Season 2 of The Mandalorian premiered on October 30, 2020. It ran until December 18.
Is there a trailer for The Mandalorian Season 2?
Yes! The official trailer for The Mandalorian Season 2 dropped in September 2020. You can view it below.
How did The Mandalorian Season 1 set up Season 2?
The Mandalorian is all about Baby Yoda, even if some episodes deviate into side quest territory. The ex-Imperial warlord Moff Gideon wants Baby Yoda for unknown reasons, and he almost succeeded in capturing him on Nevarro in the last two episodes of the season. After Mando and his companions defeated Gideon's Imperial forces and Mando took out his TIE Fighter, Greef Karga remained to clean up the city and re-establish the Bounty Hunter's Guild there. Cara Dune also decided to become a bounty hunter, and Karga cleared Mando's name.
Mando resolved to set out with Baby Yoda in the hopes that they might find the youngling's people. The Armorer established that under their Mandalorian code, Baby Yoda has essentially become the Mandalorian's son. In Season 2, the duo searches the galaxy for Yoda's homeworld — or at least some sort of settlement where their species is living.
Meanwhile, the ending of Season 1 revealed that Moff Gideon survived his TIE Fighter crash and has the Darksaber, the unique black-bladed lightsaber historically wielded by Mandalorian leaders.
Who appeared in The Mandalorian Season 2 cast?
Naturally, Pedro Pascal returned for Season 2 as the titular Mandalorian. Other returning Season 1 stars include Gina Carano (Cara Dune), Amy Sedaris (Peli Motto), Giancarlo Esposito (Moff Gideon), Bill Burr (Migs Mayfeld), Ming-Na Wen (Fennec Shand), and Carl Weathers (Greef Karga).
Season 2 of The Mandalorian also introduced some notable new guest actors and characters for the series. Ahsoka Tano made her live-action debut as the fan-favorite character from The Clone Wars was played by Rosario Dawson and helped shed some light on Baby Yoda's powers. Another TCW made the transition in fellow Mandalorian Bo-Katan Kryze, played by Battlestar Galactica's Katee Sackhoff. But the internet went up in flames like Uncle Owen and Aunt Beru in the finale when Marc Hamill reprised his star-making role of Luke Skywalker, being digitally de-aged for the cameo.
What directors are confirmed for Mandalorian Season 2?
Unfortunately, Taika Waititi is out, but some new heavyweights took his place. Robert Rodriguez (Alita: Battle Angel, Sin City) and Peyton Reed (Ant-Man, And Man and the Wasp) confirmed their involvement. Rick Famuyiwa, Jon Favreau, and Dave Filoni will also return, and cast member Carl Weathers directed an episode too.
What other Star Wars characters are in The Mandalorian Season 2?
As mentioned above, Season 2 of The Mandalorian featured a staggering number of famous Star Wars characters, including Ahsoka Tano, Bo-Katan Kryze, and Luke Skywalker himself. But perhaps the most consequential was Temuera Morrison taking on Boba Fett's fan-favorite helmet. After being teased at points of Season 1, the bounty hunter showed his full range of skills to help Mando. And in the final scene of Season 2, it was revealed to be a setup for The Book of Boba Fett, an upcoming spinoff series that looks to see him rising to power on Tatooine.
What happened in The Mandalorian Season 2?
The Mandalorian Season 2 saw Mando seeking out further knowledge about Baby Yoda and his powers, with naturally some extracurricular missions and mischief along the way. Unfortunately, the child eventually got captured by Moff Gideon. Once again, Mando had to assemble an unlikely squad of allies (including Cara Dune, Bo-Katan, Boba Fett, and Fennec Shand) to infiltrate Gideon's ship and rescue him. The gang was saved thanks to Luke Skywalker, who offered to take Baby Yoda with him to get trained in his Jedi powers. Tearfully, Mando agreed to part with him.
Was The Mandalorian renewed for Season 3?
Yes! Disney announced The Mandalorian will be returning for a third season at some point in 2022. However, it now looks to be entering a more crowded lineup of live-action Star Wars content on Disney+. Spinoff The Book of Boba Fett is planned to air at the end of 2021, and there's also the highly-anticipated upcoming Obi-Wan Kenobi series.
The Mandalorian Seasons 1 & 2 are currently streaming on Disney+.
This article was originally published on