Star Wars fans weigh in on 2 huge Mandalorian Season 2 cameos
Two looming figures are conspicuously missing from The Mandalorian.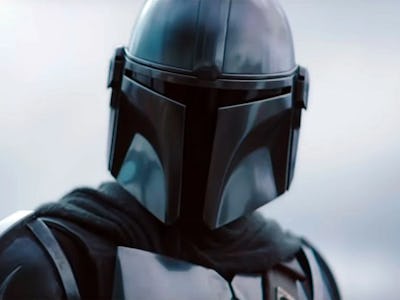 There's nothing like a surprise cameo in a Star Wars property. Dave Filoni seemed to be the master of these, bringing characters like Qui-Gon Jinn and Admiral Thrawn into The Clone Wars and Rebels. But those were animated cameos, with the freedom to change the voice actor if need be. Now Filoni is part of the creative team behind The Mandalorian, so it's possible we may see some more cameos from the classic Star Wars films.
We asked 1,500+ Inverse readers whether or not two potentially massive cameos could possibly happen in the second season of The Mandalorian.
Will Palpatine be in The Mandalorian Season 2?
Palpatine has directly or indirectly (through Snoke) affected every single Star Wars movie. A live action show would surely follow the same precedent, right? Well, the fandom seems to be pessimistic about it. Even though Palpatine is technically alive and biding his time on Exegol, 896 of the responses were a resounding no, totaling more than half of the total number of respondents. 230 are convinced he'll show up in the next season, with 412 unsure.
Palpatine's inclusion in The Mandalorian would be difficult to justify as he's living in secret, but there's a possibility a cameo from him would not be in person. A voice cameo, like the countless Jedi who speak to Rey in Rise of Skywalker , is probably the most likely possibility. There's always holograms too. Considering in the Season 2 trailer, Mando and Yoda explore what looks to be Coruscant, which means they may stumble upon Palpatine's old stomping grounds and his perhaps some holocrons.
Will Boba Fett be in The Mandalorian Season 2?
Boba Fett, like Din Djarin, is not a Mandalorian by blood, but wears the iconic armor that he inherited from his father. It seems like a no-brainer that he should appear in The Mandalorian Season 2, but fans seem to be split on the matter. 783 responses insist he will be, but that makes up only 51% of answers. 237 Inverse readers said he definitely will not, but 477 people responded that we may not see Boba Fett the bounty hunter, but we may see his armor.
This last theory has become more and more common in the run up to The Mandalorian Season 2. Cobb Vanth, a character from the Star Wars novels, stumbles across a full set of Mandalorian armor on Tatooine, but it's kept vague whether or not this was Boba Fett's. The casting of Western character actor Timothy Olyphant in Mandalorian seemed an appearance by sheriff-like character Cobb Vanth, but whether or not he'll be in that iconic armor remains to be seen.
Other casting news seems to lend weight to the 51% who said Boba Fett will show up. Temuera Morrison, who played Jango Fett in Attack of the Clones (as well as the titular clones) is attached, and though his acting CV did briefly list his role as "Boba Fett," it's possibly his appearance may just be of one of the army of clones.
The Mandalorian Season 2 premieres on Disney+ October 30.