Mandalorian Episode 5 Explains a Mysterious Bo-Katan Rumor
An old leak finally makes sense after that big ending.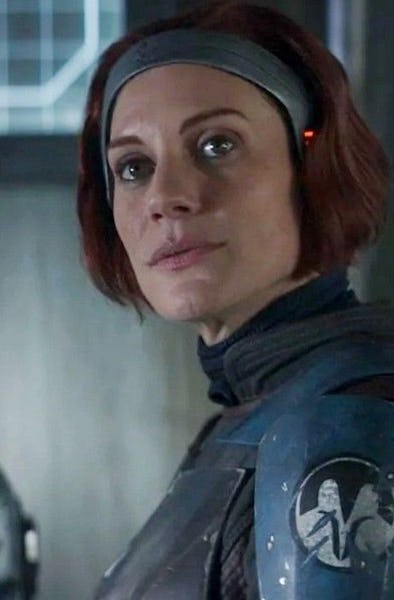 Lucasfilm
In the run-up to any Star Wars project, there are always glimpses from the set that drive speculation. It could be as insignificant as a cast member being spotted, or as notable as a whole bunch of Mandalorians being seen together in the same scene.
These glimpses often make little sense out of context, which makes speculation a bit fruitless, but now we're in a unique position. Thanks to the end of The Mandalorian Season 3 Episode 5, an old leak from the season's filming may finally make sense.
Back in March 2022, The Bespin Bulletin claimed to have seen Bo-Katan Kryze fight fellow Mandalorians on the set of Season 3. We now know that's not the Mandalorian Civil War many fans speculated it would be, as Bo-Katan and the Children of the Watch are getting along surprisingly well.
But with the shocking ending of Episode 5, where Carson Teva discovers the prison transport ship that was supposed to bring Moff Gideon to trial adrift and finds signs of Beskar within, it looks like there are more Mandalorians out there who aren't on the same page as the newly reinvented Children of the Watch.
We also know that Bo-Katan's allies from Season 2 have all left her to be mercenaries. That includes, presumedly, Axe Woves and Koska Reeves, the two Mandalorians she was with when we first met her. That old leak claimed one of the Mandalorians she fought was Axe Woves, so could her former allies now be working for Moff Gideon as mercenaries?
After Episode 5, we know that Bo-Katan is supposed to be the chosen one who will reunite the Mandalorians and usher in a new age on Mandalore. But if she's going to reunite her old guns for hire, there may be some combat involved. Bo-Katan has an entire squad behind her, so Moff Gideon needs some Mandalorians to even the score.
We know this season is building towards all the Mandalorians reuniting on Mandalore to rebuild the planet. But to get there, there may have to be some internecine fights. Hopefully, it will all be for the greater good.
The Mandalorian Season 3 is now streaming on Disney+.