Loki Season 1 Deleted Scene Could Reveal a Surprising Season 2 Cameo
The time-tripping Marvel series nearly pit Loki against a Thor variant.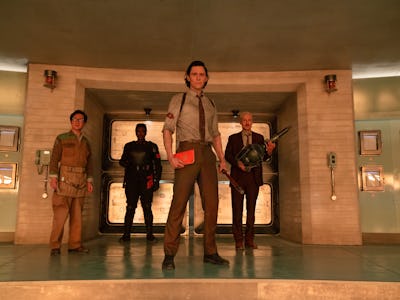 Marvel Studios
Loki (Tom Hiddleston) has come a long way from his first moments in Marvel's Cinematic Universe. He may be Marvel's most loveable anti-hero now, but he started as a tragic foil to his golden boy brother, Thor Odinson (Chris Hemsworth). It's hard to see one without thinking of the other; they were virtually inseparable throughout Marvel's Infinity Saga. Wherever Thor was, Loki was never far behind, at least until his untimely demise.
While Thor continues his journey in Marvel's main continuity, Disney+ series Loki has given the God of Mischief a new lease on life. Season 1 went a long way in establishing Loki as a solo player, but as it returns for its second season, it may just reunite Loki with his estranged brother — or, more accurately, one of his variants.
Loki's first season wasn't afraid to get a little weird. Episode 5 introduced a whole planet's worth of Loki variants, but it also snuck in a blink-and-you'll-miss-it appearance from a beloved incarnation of Thor: Throg.
Throg, as his name suggests, is a frog version of Thor. His appearance was little more than an Easter egg, but it did bring Hemsworth back to reprise his role as the God of Thunder, however briefly. Director Kate Herron confirmed the actor recorded dialogue for Throg back in 2021, and according to Loki writer Eric Martin, Throg was meant to have a slightly larger presence in the series.
Hemsworth's voice-acting may not have made Loki's final cut, but they could have contributed to a deleted scene. Throg was originally going to face off with Loki in the Time Theater, and their reunion would have seen "Loki getting pummeled by Frog Thor," Martin explained on Twitter. Unfortunately, the scene had to be cut for time. "It's too bad," added Martin, "because Tom was funny as hell."
Since the Throg vs. Loki fight didn't make it to Loki Season 1, could Hemsworth's voice cameo be repurposed for Season 2? Stranger things have happened, and the series is clearly keen to up the ante. The only concern would be fitting it into a season already so focused on the MCU's new Thanos: Kang. Kang's own variant, Victor Timely, is said to play a big role in Loki's latest adventure. Any effort to bring more variants into the mix might hurt the show more than it helps. But time will tell, and with Loki's premiere right around the corner, we won't have to wait long to find out if it's possible.
Loki Season 2 hits Disney+ on October 6.