Loki Season 2 Episode 6 Release Date, Time, Trailer, and Plot
It's time to change history. Again.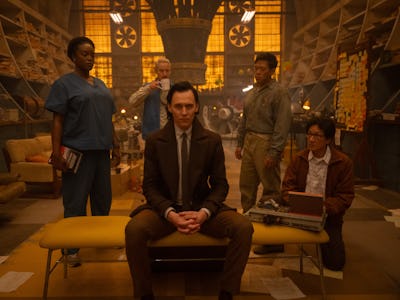 Marvel Studios
After five dramatic weeks, Loki Season 2 is closing with a huge finale. After Episode 5 showed everyone we've come to know and love get turned into spaghetti, there's only one way to save the day. To borrow a phrase from DuckTales, Loki will need to solve a mystery and rewrite history.
Just how will Loki end this time around? Here's everything you need to know about Episode 6.
What is the Loki Season 2 Episode 6 Release Date?
Loki Season 2 Episode 6 premieres Thursday, November 9.
What time does Loki Season 2 Episode 6 premiere?
Loki is taking after its predecessor, Ahsoka, by adopting a release time of 6:00 p.m. PST, or 9:00 p.m. EST. This allows it to compete with broadcast TV, not just other streaming releases, and the season finale is no exception.
What will happen in Loki Episode 6?
After weeks of drama, Loki has to use his newfound control over time to somehow stop the Temporal Loom from exploding before it destroys all of reality as we know it. No pressure.
Variety teased a major reveal, claiming Loki Season 2 "sets up Kang as the titular star of a fifth Avengers film in 2026." Considering we haven't seen Kang at all this season — just his soft-spoken variant Victor Timely — that would be a controversial game-changer.
Is there a trailer for Loki Season 2 Episode 6?
Loki isn't offering individual episode trailers, but this video recaps one of Episode 5's most heartbreaking scenes, if you need a refresher on why you feel sad going into the finale.
How many episodes will Loki Season 2 have?
Loki is a six-episode series, meaning Episode 6 is the finale. Notably, this could be the very last time we see Tom Hiddleston as the trickster god, after over a decade in the role.
Will there be a Loki Season 3?
There's no word yet on whether Loki will return for a third season. We learned about Season 2 in a post-credits scene at the end of Season 1, so it's possible the Season 2 finale will give us an immediate answer.
Loki Season 2 streams Thursdays at 6:00 p.m. PST/9:00 p.m. EST on Disney+.