5 years ago, Ryan Reynolds made the best Alien rip-off ever
Smart twists and a surprisingly deep cast bring this thriller to, well, you know.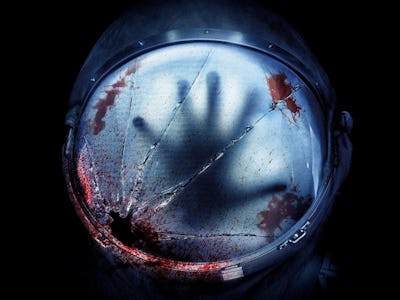 As Life hit theaters in May 2017, Jake Gyllenhaal was in the middle of a career-best streak that included Prisoners, Nightcrawler, and Nocturnal Animals, while Ryan Reynolds had just given the superhero genre a foul-mouthed, fourth-wall-breaking shot in the arm with Deadpool. Throw in Golden Globe nominee Rebecca Ferguson and martial arts hero Hiroyuki Sanada, and the stacked cast alone should have guaranteed box office gold.
Instead, the sci-fi horror's opening weekend limped in at number four, grossing less than a third of another film based on "six working together to fight evil." Turns out the prospect of Hollywood's finest versus an ever-growing Martian jellyfish was less enticing than the Power Rangers defeating Rita Repulsa again.
Life certainly wasn't short of hype. The trailer's use of a crowd reaction from Spider-Man 3's B-roll had some fanboys believing the outer space tale was linked to the Marvel Universe, perhaps Venom in particular. Yet even this overreaching theory wasn't enough to put bums in seats.
Maybe cinemagoers were simply waiting for the next installment of the franchise Life's tense, twisty premise blatantly borrowed from? Ironically, Life was moved from its original release date to avoid clashing with second prequel Alien: Covenant. Or maybe they were deterred by Reynolds treading that fine line between cheeky wisecracker and smug smart-ass for the umpteenth time?
Either way, they missed out on a gem of a B-movie that just happened to be populated by an A-list cast. While Life doesn't quite live up to screenwriters Rhett Reese and Paul Wernick's lofty ambitions of wanting "to make this generation's defining sci-fi," it deserves to be hailed as this generation's defining Alien knockoff.
It's certainly the most immediate. We only have to wait about 15 minutes after the opening scene – a stunning long take of the International Space Station's six member crew intercepting an unmanned Martian probe – for things to go wrong. The monocellular organism found among all the red dust isn't the cuddly creature its new moniker of Calvin would suggest, but an "all-muscle, all-brain and all-seeing" monster whose survival, and terrifyingly rapid growth, depends on human carnage.
Remarkably, in a development Espinosa compared to Janet Leigh's shower scene in Psycho, it's Reynolds' engineer that becomes its first victim. But whereas Marion's tragic fate was largely left to the imagination, Rory Adams gruesome demise – Calvin slithers into his mouth before ingesting his internal organs – is depicted in its entirety. It's a shocking body horror scene David Cronenberg would be proud of, with the splattered blood particles suspended in midair a nice touch and a stark warning that Life isn't afraid to subvert expectations.
From then on, it's a case of who Calvin is going to pick off next and in what gruesome manner. Olga Dihovichnaya's poor mission commander ends up drowning in a coolant-filled helmet after a spacewalk goes awry, while Hugh Derry's paraplegic exobiologist gets devoured without even noticing until it's too late.
With his slimy skin, rapid movement, and ability to outmaneuver some of Earth's most skilled scientists, Calvin is worthy of joining the likes of Xenomorph XX121 in the pantheon of great space horror monsters. "You can't compare Calvin to anthrax," argues Hugh in defense of the creature in its infancy. In fact, that's a rather flattering comparison.
Of course, the big baddie saves his craftiest trick for last, as Gyllenhaal's medic David Jordan and Ferguson's quarantine officer Dr. Miranda North come to a life-and-death arrangement. While the former will sacrifice himself by piloting a escape pod into deep space with Calvin in tow, the latter will head back to Earth to tell the tale. However, unlike the somewhat similar Gravity and The Martian, Life isn't interested in concluding on an optimistic note.
As implied by the growing volume of Jon Ekstrand's Bernard Herrmann-inspired score, something goes wrong with their plan. The film draws to an ominous close, while the middling commercial returns put the damper on a proposed sequel.
We won't spoil it here, but Life's second gut punch of a twist elevates it to the upper echelons of sci-fi horror. Its characterization may be wafer-thin, with Gyllenhaal's bug-eyed war veteran the only spaceman given a trace of a backstory. And its science may be pure hokum. But for sheer peril-in-space thrills, only Ripley and fiends can compete.