Legend of Vox Machina will continue — even if Dungeons and Dragons doesn't
Critical Role's array of cast members unpack the road ahead for both Vox Machina and the future of tabletop gaming.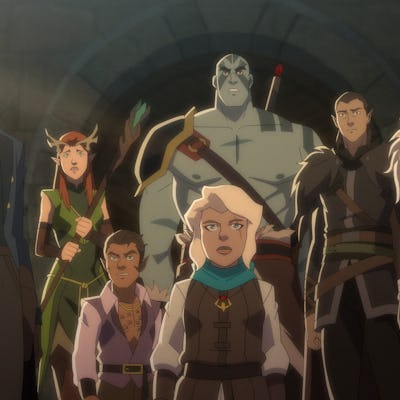 Amazon Studios
Anyone with the hobby of playing Dungeons & Dragons might be feeling like it's the apocalypse.
Earlier in January, D&D publishers Wizards of the Coast strove to update a 23-year-old agreement to the game, the Open Game License (OGL). In a nutshell, the OGL is a legal document that enables the community's creativity for a game centered on unity in the imagination. Under the original OGL, anyone can use D&D as a starting base and make their own content, even publish them commercially with few limitations.
Fans did not respond kindly to Wizards' recent actions to change it. Proposed updates sought to tighten the freedom its fans are used to, and at the same time funnel more money into Wizards of the Coast. Everyone has an opinion on it, including Inverse's own Corey Plante.
One of the biggest success stories from D&D's era of openness was Critical Role, the popular livestream hit where professional voice actors — whose credits span the biggest hits in TV, anime, and video games — role-play an epic adventure via Dungeons & Dragons. After breaking Kickstarter records in 2019, Critical Role now boasts two seasons of a streaming series on Amazon Prime Video, The Legend of Vox Machina. A third season is on the way.
On January 20, Vox Machina returns to roll the dice with its second season. The 12-episode season adapts Critical Role's 46-episode arc, titled "Chroma Conclave" — first played on Twitch from 2016-2017 — where five evil dragons arrive to conquer the world.
It's an interesting time for a show based on a D&D game when it feels like D&D is engulfed in flames. The Critical Role cast and crew are singularly focused on Vox Machina, but when asked, they offer hope for gaming itself no matter what the biggest dragons are doing.
"It's been exciting to watch the entire tabletop industry swell the past 10 years," Critical Role's Matthew Mercer tells Inverse. "We're excited that we've helped usher that in whatever way we have. Watching the community expand [with] so many new talents, new designers, new ideas, new game systems, and ways to engage with gaming, it's a constantly growing space."
Dragons Are Here
The new season of The Legend of Vox Machina centers on an alliance of evil dragons, the Chroma Conclave, who seek to annihilate all in Tal'Dorei. Vox Machina picks up where Season 1 left off with the Conclave making their presence known in the capital city Emon.
Only the plucky heroes of Vox Machina — like barbarian brute Grog (Travis Willingham), sibling adventurers Vax (Liam O'Brien) and Vex (Laura Bailey), womanizing bard Scanlan (Sam Riegel) and more — are brave enough to stop them.
"The Chroma Conclave represents the terrifying union of dark elemental forces coming together," explains Mercer, who wrote the initial story of the Chroma Conclave as Critical Role's DM (or Dungeon Master, the chief storyteller in any game of Dungeons & Dragons).
"The Chroma Conclave is super expensive and action-packed," says Sam Riegel, who voices Scanlan. "One of the most challenging aspects was [these] dragons, just getting the size and scope of those massive creatures. It took a lot of animation know-how, integrating their 3D designs with our 2D characters."
The Season 1 finale of Vox Machina had one dragon in the cliffhanger finale, but all of Season 2 features more dragons with more screen time. "It was four times the rendering, four times the CG, and four times the computing power," says Riegel.
But Vox Machina across the board boasts a visual upgrade that can be seen, pulled off by the sorcerers of animation studio Titmouse.
Adds Riegel: "We did a big facelift to the designs, we gave them much more intricate texturing on their skin and shading so we can do close-ups and wide shots. The team at Titmouse did an incredible job taking movie-level quality graphical elements and making them work in television on a reduced timeline."
Another challenge faced by Vox Machina was condensing 46 sessions of their D&D game on Twitch into a dozen half-hour episodes of TV. It was a task they faced last season, in the adaptation of their "Briarwood Arc," but the job hasn't gotten any easier.
"That's always the tricky part," says Travis Willingham, both the voice of Grog and Critical Role's CEO. "It's always a sad ceremony when we realize certain moments [from our game] won't make it into the animated series. But it's fun getting together in a group and being able to throw things on a whiteboard and collectively come to an agreement."
Liam O'Brien, who voices the rogue hunter Vax, says the team lives by a code that soothes the pain: "If we don't have time for it here, then it lives forever at the table," he says.
A Family Affair
A prominent theme this season of Vox Machina is family. The heroes' complex backstories creep into the forefront in Season 2, as an array of new characters who relate by blood to Vox Machina come to their aid — or disruption.
The theme wasn't intentional, at least to Mercer during the livestream games. "When [the players] made these characters, the opportunities to confront their backstories kind of presented themselves to me," Mercer remembers. "As the stakes of the narrative got so big, it was important to me to not just focus on large stakes but smaller, personal ones. That was the right time for me to take these threads and pull them in."
"I think we were open to exploring more intimate relationships with each other [to] tell more intimate stories," says Ashley Johnson, who stars as the mystical cleric Pike. At the time Critical Role began the arc, the livestream was just over a year old. "We were getting closer as friends. There was a heavier emphasis on family because we were all caring for each other that much more on a level even underneath. I think that's why it felt so present."
"I think so much of it mirrored real life, how Vox Machina became a found family," adds Marisha Ray, Critical Role's creative director and voice of the nature-bound Keyleth. "Some of us didn't know each other before we sat at a table, and now any one of us would throw ourselves in front of a train for the other. That's just the story of Vox Machina in general."
The Road Ahead
For all the math crunched in a game of D&D, no one has everything figured out.
Here's what we know: The Legend of Vox Machina will have a third season, one that Sam Riegel teases will expand the scope of the series on a cosmic level. "We have hundreds of hours of gameplay to draw from," he says, "If we get far enough to tell the whole story, Vox Machina will go up against universal problems. Cosmic problems. God stuff. There's plenty more story to tell. We could take this four or five seasons and maybe beyond."
But beyond Season 3 and the reality that fans of role-playing games are navigating a tense relationship with the most popular RPG ever, everything is a roll of the dice. For Critical Role, who built its bones on Dungeons & Dragons, there's a holistic view that no matter what happens, tabletop gaming will live on so long as there are tables to game on.
"I think it's an exciting time," Willingham tells Inverse. "It's a special thing for someone like myself that came to tabletop gaming later in life. It has been an opportunity to come closer with my friends, my newfound family, and fostered relationships I don't think I would have under any other circumstance. I think the future is very bright."
"Tabletop gaming ain't going nowhere," Riegel adds. "The people who play and the creators who make games realize how gosh darn fun it is and how human it is to tell stories with friends. The momentum isn't because of us, and it's not because of any one company. It's because people have woken up and realize this stuff is just fun. It's a wonderful way to share humanity. It's gonna get more interesting in the years to come."
The Legend of Vox Machina Season 2 will begin streaming on Prime Video on January 20.