Kevin Feige: Marvel TV is the Anti-Lost for One Revolutionary Reason
Never underestimate the power of the episode.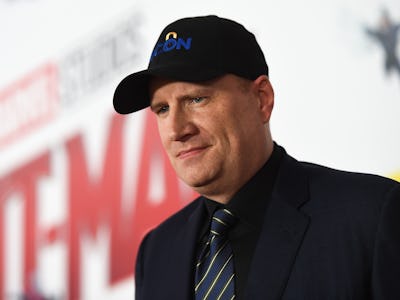 Variety/Penske Media/Getty Images
It may feel like Marvel TV has been with us forever, but the first MCU show to debut on Disney+, WandaVision, wasn't released until 2021. There's only been two years' worth of MCU TV, but that hasn't stopped the franchise from pumping out groundbreaking (and lore-breaking) series like Loki, as well as less serious fare like She-Hulk: Attorney at Law and Hawkeye.
Over these two years, the MCU has quietly reworked how we watch television. Marvel Studios' head honcho, Kevin Feige, recently spoke about what makes Marvel's TV shows different — and what those unique features are trying to accomplish.
MCU TV has never played by the rules. WandaVision started things off with a love letter to television itself, bouncing from homages to early '50s fare all the way up to referencing Malcolm in the Middle and Modern Family. While later works like The Falcon and the Winter Soldier reverted back to the serialized model of telling one big story over several chapters, most MCU shows have leaned towards the WandaVision side of the ledger, producing standalone episodes that weren't afraid to be a little experimental.
In an interview with Entertainment Weekly, Feige said this choice was deliberate. "We want to do shows that can only be shows," he said. "I want to continue to make them even more episodic, which may seem counterintuitive. But I do think there is something fun about leaning back and watching an episode that can be relatively self-contained."
Self-contained episodes are increasingly rare in the television landscape of the 2020s, where streaming services and the binge model have led creators to refer to series as "eight-hour movies" where each episode is primarily intended to lead into the next.
According to Feige, this trend can be traced back to one series. "Lost was an incredibly influential show because it was this serialized story, which was not seen in television much," he said. "Now it's been how long, 20 years? Since then, almost everything has become like that."
Plenty of television shows are trying to reverse that trend, but the MCU (and its sister franchise, Star Wars) have provided some of the highest-profile examples of shows exploring what can be done with the art of an episode as a story in itself.
Apparently, this is only the start of what Marvel has planned. "You're starting to see the fun of a self-contained, episodic story week to week," Feige said. "We're going to experiment with that in some of our upcoming things."