Is Jason Momoa playing Lobo? The Aquaman actor drops a huge DC clue
Momoa may soon trade his trident for a Harley-Davidson, based on a recent Instagram post.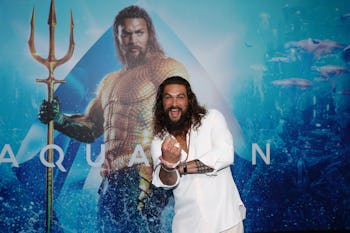 Chris Hyde/Getty Images Entertainment/Getty Images
The Main Man is staying at Warner Bros. and DC, but will he actually become Lobo?
In an Instagram story posted on his official account, actor Jason Momoa teased good news following a meeting at Warner Bros. and DC Studios, the latter overseen by James Gunn and Peter Safran.
In a selfie video with two building security guards, Jason Momoa exits the Warner offices in jubilation, telling his fans he has "some really good news" that he's not yet at liberty to share.
"Wish I could tell you, but here it is," Momoa says. "Peter, I love you. James, I love you." Momoa also named David Zaslav, CEO of Warner Bros. Discovery, then concludes with some dancing and the declaration of "To the future!"
Momoa's next (and seemingly last) Aquaman film, Aquaman and the Lost Kingdom, has yet to be released, but there's been speculation the actor will soon change superhero roles. In the past, Momoa has expressed serious interest in the galactic bounty hunter Lobo, a comic book anti-hero whose personality is basically a cartoonish exaggeration of Momoa's own vibe.
In a November 2022 interview, Momoa told ET Canada that "one of my dreams [is coming] true" under DC Studios. He elaborated a little more to Comic Book Resources, saying that "all the fans who know me will know that I collect this comic book the most."
Momoa's latest Instagram story further supports the theory that he'll live out his dream of playing a DC character he was practically born to play. Hollywood dreams can die in a hurry, but given the current energy channeling into DC Studios, the odds of Momoa getting to ride a chopper from planet to planet appear to be in his favor.
Plans for James Gunn and Peter Safran's new DC Universe still aren't public, but seismic changes have already shaped the franchise. Henry Cavill is out as Superman, as is Gal Gadot as Wonder Woman. Ezra Miller is still The Flash, at least until the release of The Flash this summer. There aren't any known plans for a Justice League ensemble movie, and even then, it's highly unlikely the cast of Zack Snyder's era will stick around.
James Gunn has also teased projects involving more obscure characters, such as Mr. Terrific and Elseworlds adaptations. Lobo fits the bill as a cult character still unknown to mainstream audiences. In a December 15 tweet, James Gunn promised the new DCU will focus "on the most well-known and some lesser known characters simultaneously."
Aquaman and the Lost Kingdom will open in theaters on December 25, 2023.