The Real Hero of James Gunn's DCU is Grant Morrison
"Chapter One" of James Gunn's DCU seems to have one major inspiration.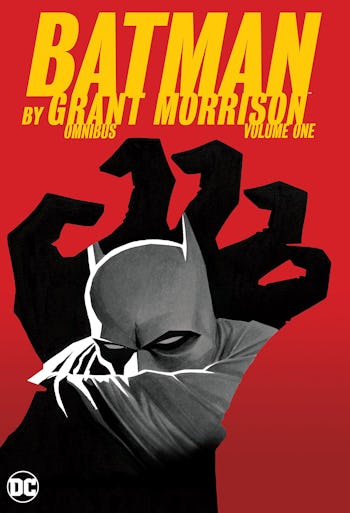 DC Comics
Two days before James Gunn revealed his grand plans for the DC Universe, formally "Chapter One: Gods and Monsters," Comic Book Resources sang the praises of Scottish comic book writer Grant Morrison and their impact on DC Comics.
"Grant Morrison's concept that the Justice League is a group of mythological heroes watching over mortals is still echoed throughout the DC Universe," wrote essayist Eli Essinger, "Morrison breathed new life into a franchise that was beginning to fade into obscurity."
On January 31, Comic Book Resource's observations on Morrison felt prophetic as James Gunn pulled back the curtain on his grand plan for the DC franchise, which showed a special focus on Grant Morrison comics. While two offbeat shows will introduce the refreshed DCU, Gunn announced the true beginning of the DCU lies in none other than Superman. Superman: Legacy, a new movie written by Gunn, will star a new actor as the Man of Steel (taking over from Henry Cavill) in a story that explores the many sides of Kal-El and Clark Kent.
Gunn didn't mention the source text inspirations for Superman: Legacy, though the January 31 video presentation flashed the cover of Grant Morrison's seminal All-Star Superman miniseries. Morrison's name was verbally mentioned just minutes later, when Gunn announced that a Batman movie reboot (yes, another one) will function as a more direct adaptation of Morrison's Batman comics, namely Batman and Son and Batman and Robin.
"The introduction of the DCU's Batman is The Brave and the Bold," Gunn said in the video, "The Brave and the Bold is the story of Batman and his actual son, Damian Wayne. This is based on Grant Morrison's great comic book run."
Gunn went on to say that Damian Wayne, a character Morrison didn't invent but fleshed out as a fully-dimensional problem child in their stories, is his personal favorite Robin. "This is the story of the two of them, and the beginning of the Bat-Family in the DCU," said Gunn.
Grant Morrison's name may not be as recognized by the mainstream as Stan Lee or Todd McFarlane. But the Glasgow-born writer is an undisputed giant in comics whose body of work is more influential to today's superhero culture than any other writer alive.
Though a prominent player of American comics' "British Invasion" — the wave of British writers into American comics in the '80s and '90s — Morrison stood from the pack. While their contemporaries sought to widen the boundaries of comics by exploring genres besides superheroes, Morrison only dug deeper into the territory of capes and cowls. By unearthing new depths in obscure titles (like Animal Man and Doom Patrol) and familiar icons (like Batman, Superman, X-Men, and the Justice League) alike, Morrison reinvigorated superhero comics at the turn of the 21st century by evolving the craft but never sacrificing the spirit that makes superheroes appealing across generations.
Not all of Gunn's DC projects are based on Grant Morrison comics. But it speaks volumes that Gunn is launching the DCU with a Batman and Superman directly inspired by Morrison. Morrison's comics stand in stark contrast to the prolific comics of Frank Miller, which director Zack Snyder heavily lifted from in his first wave of DC movies.
Miller is an influential figure in his own right; his 1984 comic The Dark Knight Returns are the blueprints for gritty superhero stories, and his 1987 tale Batman: Year One is practically the urtext to the origin story formula. But Miller's dark and aggressive storytelling has been mined by filmmakers for a good minute. It's not Miller's comics are "bad, actually," it's just time for DC to do something different.
As Comic Book Resources observed, Morrison's big take on the DC Universe was that the Justice League roster were godlike beings who stood watch over humans; Superman standing in the Justice League watchtower was like Zeus holding court on Mount Olympus. With James Gunn labeling this new era of the DCU "Gods and Monsters," Gunn is visibly finding inspiration from a writer who knows that means the best.