Boots Riley Crafts a Radical New Fairy Tale in I'm A Virgo
Riley's Sorry to Bother You follow-up is a fresh and funny call to arms.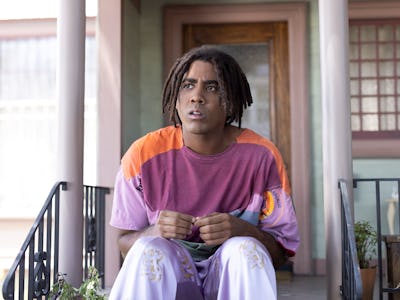 Amazon Prime Video
Boots Riley enjoyed a prolific career as a rapper, producer, and activist long before he burst onto the filmmaking scene with Sorry to Bother You. The multihyphenate paired a scathing rant against commercialism with a surrealist commentary on codeswitching, and effectively reintroduced himself to the world as a writer-director for the ages. Riley's always been pretty vocal about exploitation, capitalism, and even the hypocrisy of (super)hero worship. It's his latest on-screen project, I'm A Virgo, that allows him to unpack those themes in long form.
The seven-episode series is brimming with righteous indignation and childlike wonder. That Riley and his team manage to synthesize what could have been two very-jarring tones shouldn't come as a surprise, but it's nice to see Riley's talents as a filmmaker growing, especially where his new leading man is concerned. Jharrel Jerome (When They See Us) stars as Cootie, a young Black man working to find his place in an increasingly intolerant world. Life's hard enough when your hometown — Riley's native Oakland — is falling apart at the seams. The crisis of capitalism bleeds into every aspect of life in the Bay Area: gentrification exacerbates an already-dire housing crisis, corner-cutting fast food chains pump poison into the neighborhood, and vigilante cops crush the populace into submission.
Cootie, for his part, knows little about the workings of the world. That's because Cootie is also a 13-foot-tall giant; his aunt and uncle (played by Carmen Egojo and Mike Epps, respectively), who've raised him since infancy, are convinced that the world is not ready to accept him as he is. As a result, Cootie's never set foot outside of his home. His aunt and uncle do what they can to keep him comfortable and quell his curiosity — but after 19 years of playing by their self-imposed rules, Cootie can scarcely be contained anymore.
Cootie's first adventure turns him into an urban legend overnight. He falls in with a group of neighborhood teens — funny guy Felix (Brett Gray), the radical Jones (Kara Young), and Scat (Allius Barnes) — finds love with aspiring chef Flora (a delightful Olivia Washington), and finally gets to try the addictive burger restaurant in his neighborhood. But his newfound fame also attracts inevitable attention: there are some who see Cootie as a messiah, others who'd exploit his stature for gains, and still more who are threatened by his very existence.
One mounting threat comes in the form of Walton Goggins' Jay Whittle, a tortured artist turned comic magnate who created a vigilante called The Hero. Cootie, raised on Hero comics and cartoons, grew up idolizing Whittle, who later took on the mantle in real life and now patrols his neighborhood in an absurd-looking one-man drone. Through Cootie's relationship with Whittle, I'm A Virgo addresses one of its bigger theses: heroes are just cops with superpowers. It's a tough pill for Cootie to swallow, and one can only imagine how that's going to fare in our Marvel/DC-obsessed society. Of course, Riley has never been interested in coddling his audience. I'm A Virgo may feel slightly more childlike than Riley's first effort, but it's still a radical crash course in Riley's own anti-capitalist message — a call to arms disguised as a fantastical coming-of-age.
Riley's ironed out a few of the kinks that kept his feature debut from fully sticking its landing. Unlike his first effort, which veered wildly from slightly-heightened satire into pure, jarring fantasy in its last act, I'm a Virgo manages to balance those two worlds simultaneously. The Prime Video series is also juggling a lot of themes in a limited amount of time, but Riley's second effort benefits greatly from a more unified tone. Riley is not shy about the statements he wants to make here, and it's hard not to compare his ambitious, off-kilter storytelling to that of Spike Lee. Still, Riley is carving a path all his own, and it's really exciting to watch his voice develop further — especially given the talent he assembled for I'm A Virgo.
While the seven-episode series bounces from one seemingly disparate theme to another, Cootie's role as a very-tall fish out of water keeps things from falling apart, too. As the standard of living plummets, his friends stage protests against police brutality, and Cootie himself gets implicated in a bit of civil unrest. He has to decide what role he wants to play in the mounting class war. Just existing isn't an option, and it may never be — but that's exactly what makes this story such a fresh and satisfying watch.
I'm A Virgo premieres on Amazon Prime on June 23.