I'm a Virgo Release Window, Cast, Plot, and Trailer for Boots Riley's Sci-Fi Show
Boots Riley's first show is a fantastical journey about a young dude on his way to do big things.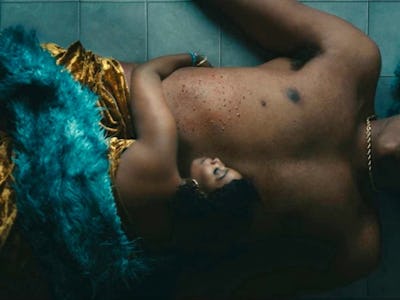 Amazon Prime Video
Cootie is punching holes in the ceiling and slamming down walls — you could chalk it up to regular teenage angst, but in this case, Cootie is going through growing pains. Thirteen feet of growing pains, to be precise.
Sorry to Bother You breakout director and longtime musician Boots Riley is back to deliver another absurdist story — this time, a mythological, coming-of-age show on Amazon Prime Video about an über tall Black man just trying to get a job, get bros, get a date, and get out of his parent's house in Oakland, California.
Intrigued? So are we. Here's everything Inverse knows so far about Boots Riley's original episodic series, I'm a Virgo...
When is the I'm a Virgo release date?
Boots Riley's biggest fans have been eager to see what the multihyphenate rapper, producer, activist, screenwriter, director has been cooking up since I'm a Virgo was announced way back in June 2020. Unfortunately, it is unclear how long Amazon Prime Video subscribers will need to wait to see Riley's second on-screen project and his first-ever TV series. Recent reports have said that the show is likely airing on the SVOD platform in late 2023, while others have said that the show will be available to stream "sometime soon."
It's possible that I'm a Virgo may get bumped up in Amazon Prime Video's release slate depending on its performance at its SXSW screening this weekend.
Is there a trailer for I'm a Virgo?
Yup! In the lead-up to I'm a Virgo's debut at SXSW in Austin this Saturday, Amazon Prime Video dropped the first official teaser for director and screenwriter Riley's fantastical seven-parter. The teaser is a 60-second spot, which is about twice as long as the typical teaser. This may point to Amazon Prime Video's faith in the project.
Who is in the I'm a Virgo cast?
The I'm a Virgo cast has both familiar faces and relatively fresh ones already making their mark in Hollywood. Some actors you might recognize from the big and small screen include...
Jharrel Jerome (When They See Us, Moonlight)
Brett Gray (On My Block, Star Trek: Prodigy)
Kara Young (The Punisher)
Allius Barnes (Cruel Summer, Thumper
Olivia Washington (The Butler, Breaking)
Carmen Ejogo (It Comes at Night, Selma)
Mike Epps (The Hangover, The Upshaws)
Robert Longstreet (Midnight Mass, The Fall of the House of Usher)
What is the plot of I'm a Virgo?
Plot details for I'm a Virgo have been kept tightly under wraps, only described with a simple, one-sentence logline: "A radical coming-of-age joyride about Cootie (Jerome), a 13-foot-tall young Black man who lives in Oakland, CA."
The official teaser trailer does provide some more clarity about what that aforementioned joyride actually entails: Cootie accidentally destroys his house with his growth spurts (much to the chagrin of his exhausted father), Cootie goes on late-night city jaunts with his friends (in vehicles with ludicrously spacious backseats), Cootie goes clubbing, and Cootie does a lot of back-breaking crouching around in places with low ceilings.
If we're to glean any insights from Boots Riley's directorial debut, 2018's Sorry to Bother You, then I'm a Virgo is likely full of magical realism, dark humor, biting social and political commentary about being Black in America, anti-capitalism, some unsettling sci-fi, and a couple of majorly out-there plot twists.
It's difficult to tell what the wildly imaginative Riley may have concocted for this seven-episode absurdist comedy, but it's safe to say that Riley probably created a story that has way more to offer than just "super tall dude" gags. (But we'll get a lot of those, too.)