Marvel just revived its primate assassin — What to know about Hit-Monkey
"Two dudes, two fates, one awesome ride."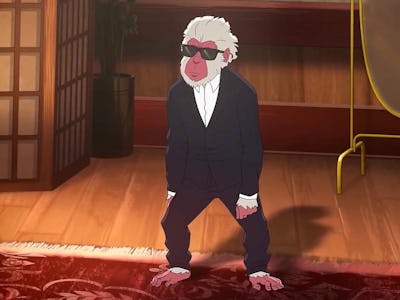 Monkey mayhem continues on against all odds, Marvel's Hit-Monkey on Hulu will return for Season 2. The announcement was made on Feb. 2, over a year after its launch on the streaming platform.
Since Marvel's Hit-Monkey is a story of survival — as well as one of vengeance, poltergeists, martial arts, and friendship — it's appropriate that it would be the sole survivor of Marvel and Hulu's proposed four-show animated slate, which includes two that were scrapped entirely (Tigra & Dazzler, Howard the Duck) and one that was canceled after only one season (M.O.D.O.K.).
Along with the shocking Season 2 renewal, the Disney-run streamer announced that Marvel's Hit-Monkey will no longer have Marvel in its name — even though the Marvel show was received positively by both critics and audiences in spite of it not existing within the Marvel Cinematic Universe's continuity. So, Hit-Monkey it is.
Hit-Monkey's premise is both outlandish and oddly adorable (yes, even with all the blood and guts spillage): The titular simian is a wronged Japanese macaque of slightly above intelligence and extraordinary combat skills, who is mentored by the ghost of an American assassin as they take on Tokyo and New York City's crime underworlds.
When will Hit-Monkey Season 2 be released?
Given that the show was only just greenlit for Season 2, it seems more likely that Hit-Monkey won't be back until at least 2025, given that the timeline from the development of Season 1 (Feb. 2019) to its premiere date (Nov. 2021), was almost three years long. But the process was slowed down due to various circumstances, including Marvel Television getting folded into Marvel Studios.
And yet, Hulu's surprise announcement of the show's renewal did say "Coming Soon," which could mean that some of the production processes has already been underway, and if so ... a late 2023 to late 2024 debut is the quickest (and best) possible outcome.
Who is in the Hit-Monkey Season 2 cast?
Leslie Jones, known for Saturday Night Live, Ghostbusters, Our Flag Means Death, and hosting Supermarket Sweep, will be joining Hit-Monkey in an undisclosed role. Jones will join Fred Tatasciore, the voice of Hit-Monkey (a seasoned voice actor who is famous for voicing the Hulk and Beast in several Marvel animated shows and video games), and Jason Sudeikis (Horrible Bosses), the voice of Bryce Fowler.
Others announced to return to the fold include Olivia Munn (X-Men: Apocalypse) as Akiko/Lady Bullseye and Ally Maki (Toy Story 4) as Haruka. Shinji Yokohama, George Takei's character, sadly did not survive Season 1's finale, but as viewers are well-aware, the dead can do just as much damage as ghosts as when they were alive. Perhaps Season 2 will resurrect Akiko's beloved uncle, Shinji Yokohama.
What is the Hit-Monkey Season 2 plot?
Hit-Monkey Season 1 ends with a beacon of hope after a bloodbath: Bryce (Sudeikis) comes back from the Afterlife and realizes that he wants to stick around with Hit-Monkey for more butt-kicking in Toyko and New York (and maybe elsewhere, too). The inaugural season of the show does a fantastic job pacing out Hit-Monkey's origin story, Bryce's past, and establishing each protagonist's primary motivations, as well as the duo's friends and foes.
What's next for Hit-Monkey and Bryce? Who knows! There are several canon enemies the simian assassin could duke it out with that haven't popped up in the series yet, including Cobalt Man, Dracula, the Circus of Crime members, Madcap, Nuke, Princess Python, Radioactive Man, Ringmaster, Shiklah, and Taskmaster. (Mostly B, C, and D-list villains, but it'd be fun to see what 20th Television Animation might do with these characters.)
And, oh yeah, maybe a Deadpool/Ryan Reynolds cameo: Hit-Monkey and Wade Wilson are frenemies, as they've never seen eye to eye before but do have a certain level of respect for each others' skills. Hit-Monkey was featured in a three-issue story arc in Deadpool (No. 19-21), as well as Deadpool & The Mercs for Money (No. 5).
Whatever happens with Hit-Monkey, at least fans of the niche adult animated superhero show breathe a sigh of relief: Two dudes, two fates, will be back for another awesome ride.
Hit-Monkey Season 1 is available to stream now on Hulu.