'Hit Monkey' on Hulu: Plot, Release Date, Trailer, and Everything We Know
What if John Wick was a monkey?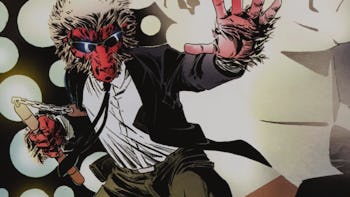 Marvel Comics
Have you ever wished for a movie like John Wick except instead of Keanu Reeves, it was a Japanese snow monkey as the lead character? Boy does Marvel have an adult animated series for you.
In February, Marvel announced a slate of adult animated television series being produced for Hulu, including one based on Hit Monkey, a monkey assassin who murders human assassins.
Other series are in development for Tigra & Dazzler, M.O.D.O.K., and Howard the Duck, with a team-up crossover event in the form of The Offenders coming later.
Josh Gordon and Will Speck (Blades of Glory, Office Christmas Party) will write and executive produce Hit Monkey, and Head of Marvel Television Jeph Loeb will also executive produce.
What Is the Plot of Hit Monkey?
For simplicity's sake, Hit Monkey's story feels like a mix between Teenage Mutant Ninja Turtles and the Punisher with a dark comedic tone comparable to Deadpool — with less fourth-wall breaking.
The character first debuted in 2010 in a Marvel Comics one-shot simply titled Hit-Monkey #1 written by Daniel Way and drawn by Dalibor Talajić. He was then later featured in Deadpool #19-21 and made a few other appearances in Marvel.
Here's his origin: A human assassin on the run is rescued by a troop of Japanese macaques. One lone monkey teaches himself combat techniques by watching the assassin train and is eventually banished from the group. Before long, a group of assassins murders his entire clan and the lone assassin. The primate returns to find them all dead so he kills everyone involved with the massacre, and then assumes the title Hit Monkey. His quest becomes murdering assassins as a "killer of killers" with a duffel bag of guns.
It's endless, righteous vengeance.
During his career, Hit Monkey comes in direct confrontation with Deadpool and Spider-Man, and he occasionally teams up with Domino and also the Howling Commandos.
Based on the official summary from Marvel, however, it sounds like the show will focus on Hit Monkey's origins and his early career:
Marvel's Hit Monkey tells the tale of a wronged Japanese snow monkey, mentored by the ghost of an American assassin, as he cuts a wide swath through the Tokyo underworld in this darkly cinematic and brutally funny revenge saga.
Could we one day get that Deadpool and Spider-Man crossover? Hey, with the Disney-Fox merger finalized, anything feels possible. They'll just have to find the right monkey to play him in live-action — or somehow get Ryan Reynolds and Tom Holland to voice animated versions of their characters.
When Is the Hit Monkey Release Date?
Marvel only just announced these series in February with no release window whatsoever. We do know that The Offenders will come after the other four series, and Kevin Smith (who's heading up the Howard the Duck show, told Slash Film, "we're going to be the last of the series to go."
Therefore, it's between M.O.D.O.K., Tigra & Dazzler, and Hit Monkey for the first three shows to air.
When Will the Hit Monkey Trailer Be Released?
We have no way to know when the trailer will be released just yet, but we'll update this post when it arrives.
Who's In the Hit Monkey Cast and Crew?
Other than Josh Gordon and Will Speck as showrunners, we don't know anything about the cast or crew.
In their previous movies like Office Christmas Party, The Switch, and Blades of Glory Gordon and Spec have worked with actors such as Will Ferrell, Will Arnett, Jason Bateman, and T.J. Miller.
Maybe one of them will get the lead role? File this as pure speculation.
Hit Monkey will air exclusively on Hulu, and there's no indication of when the series might be released.