'M.O.D.O.K.' Animated Series on Hulu: Release Date, Plot, Actors, and Ego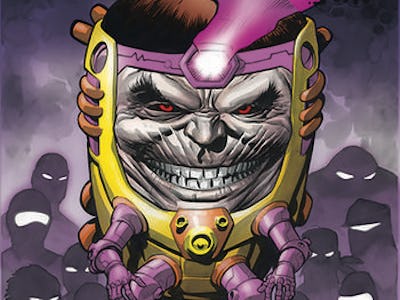 Marvel
If you're looking for new Marvel content after mourning Netflix's losses, look no further than Hulu. Marvel Television is partnering with the streaming service to expand its catalog of animated series with new originals, including Marvel's M.O.D.O.K..
Read on to find out everything we know about this new Marvel animated series, including a special event it's leading to that will unite the supervillain with other characters. Keep checking back for more information.
What Is the Marvel's M.O.D.O.K. Release Date?
We don't know yet, but the partnership between Hulu and Marvel Television was announced in February.
When Will the Marvel's M.O.D.O.K. Trailer Be Released?
That will likely depend on when the series is released. Fans can probably expect a trailer anywhere up to a month before. There may also be other featurettes leading up to and after the release date.
What Is the Marvel's M.O.D.O.K. Series About?
In the comics, the character was created when the Scientist Supreme of A.I.M. (Advanced Idea Mechanics, the scientific research division of Hydra) put technician George Tarleton through many experiments that made him a mad being with a large head, superhuman intelligence and psionic powers.
As you can therefore guess, this isn't a series about a superhero, and Hulu's official description confirms that.
Marvel's M.O.D.O.K. centers around an egomaniacal supervillain with a really big head and a really little body, who struggles to maintain control of his evil organization and his demanding family.
But don't expect to see a one-dimensional supervillain.
"[Jack] Kirby's design is the stuff of nightmares yet he's also somehow… slightly adorable? Stan Lee wrote him as this amazing flawed character, always being undone by his inflated ego and thin skin," executive producer Jordan Blum told Marvel. "Over the years he's been portrayed as both a menace and a joke and I think our show is much more interested in exploring him as a human being. A human being who's also a Mental Organism Designed Only for Killing! At the end of the day, M.O.D.O.K. is a giant-headed, petulant, insecure, egomaniac with zero social skills."
Patton Oswalt, who will voice the titular character, expanded on that in an appearance on Late Night with Seth Meyers in February. "He is not on the A level of like Doctor Doom and the Red Skull," he said. "Not only does he hate all the heroes, he hates all the other villains because he's so resentful."
Who Is in the Marvel's M.O.D.O.K. Voice Cast and Crew?
Oswalt will be voicing M.O.D.O.K. and be an executive producer with Blum and Jeph Loeb. Oswalt and Blum will write for the series as well.
Will There Be a Marvel's M.O.D.O.K. Season 2?
We don't know, but we do know that we will see M.O.D.O.K. again. He will team up with Hit Monkey, Dazzler, Tigra, and Howard the Duck for Marvel's The Offenders. The special will come after the Marvel's M.O.D.O.K., Marvel's Hit Monkey, Marvel's Tigra & Dazzler Show, and Marvel's Howard The Duck animated series.
Marvel's The Offenders, is a story in which nobody asked them to — and we'd be better off if they didn't — but MODOK, Dazzler, Tigra, Hit Monkey and Howard the Duck are all forced to team up in order to save the world and certain parts of the Universe.
In other words, it's an animated comedic take on The Defenders.
Marvel's M.O.D.O.K. will be available on Hulu.
Related video: Captain Marvel Movie Review