With One Strange Cameo, HBO's Barry Skewers Superhero Movies
"Yeah, I think it's gonna be a good movie."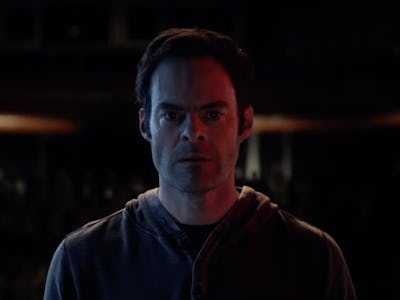 Barry is a lot of things. It's an HBO dark comedy about a mentally unstable assassin. It's a tour de force for its co-creator, writer, director, and star Bill Hader. It's the NoHo Hank experience. And it's also a relentless satire of Hollywood. Earlier seasons mocked everything from the algorithms that decide which Netflix shows get renewed to the torture of a press junket. But in Season 4, Barry sets its sights firmly on superheroes in general, and Marvel specifically.
In Barry Season 4 Episode 4, Sally Reed (Sarah Goldberg) arrives on the set of the superhero movie Mega Girls to help her acting student (who lacks the talent for a role where the green-screen CGI is more important than the actors standing in front of it). Sally is immediately star-struck by the appearance of Sian Heder, the very real Oscar-winning writer-director of CODA who plays herself here as the miserable director of Mega Girls.
"CODA is a masterpiece," Sally says.
"I'm clearly switching gears with this one," Heder responds. "On CODA, I worked with committed actors to tell a deeply personal story and now I'm working with models in Halloween costumes fighting over a blue, glowy thing..." (At this point she trails off before an assistant chimes in to confirm the thing in this case is an "Infinity Orb" in what feels like a direct nod to Marvel's Infinity Stones.)
Sally adds that it's still exciting. To which Heder replies dead-eyed: "Yeah, I think it's gonna be a good movie. I think when people see Mega Girls they're gonna think, Whoever made that made CODA. Yeah."
If any of this feels familiar, it's because it is. While Sian Heder's cameo is clearly meant to evoke a general frustration with the superhero movie industry and how it forces "serious" directors to make unserious movies, there's one clear comparison: Chloé Zhao and Eternals.
In 2019, Marvel revealed that Zhao would direct Eternals, a superhero movie about a group of cosmic heroes who wind up on Earth. A year later, Nomadland (which Zhao also directed) was released in theaters. It went on to sweep the Academy Awards, earning Zhao an Oscar.
So when Eternals premiered in November 2021, expectations were high. Unfortunately, the general consensus was that Zhao was unable to break from the Marvel formula. The resulting movie was a mess. While there are glimpses of something interesting in Eternals, the bad ultimately outweighs the good. Two years later, Marvel seems content to move on and pretend the movie never happened.
So is Eternals actually the worst Marvel movie of the last few years? That's up for debate, but if you consider the numbers, it doesn't look good. Eternals has a 47% on Rotten Tomatoes. That's pretty bad, but it's actually tied with Ant-Man and the Wasp: Quantumania. Then again, Eternals also has a 77% audience score, while Quantumania managed to score 83% from audiences. (In case you're wondering, Thor: Love and Thunder has a 63% on Rotten Tomatoes.)
So yes, Eternals technically is the worst Marvel movie of the decade, and Barry seems to know why. The only question left is: Will Mega Girls do any better? We'll have to wait and find out.
Barry is streaming now on HBO and HBO Max.