Guardians of the Galaxy 3 will feature a surprising DCEU reunion
A new star has joined James Gunn's list of frequent collaborators.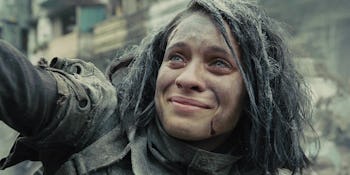 Like most directors, James Gunn has a habit of working with a lot of the same actors and crew members on each of his films. Gunn has repeatedly worked with actors like Nathan Fillion, Michael Rooker, and Steve Agee, as well as his brother, Sean Gunn. All four appeared in Gunn's most recent film, 2021's The Suicide Squad, which also saw Gunn work with a number of actors he'd previously never collaborated with.
Now Gunn is hard at work on finishing The Guardians of the Galaxy Holiday Special, which is set to premiere on Disney+ later this year, as well as next year's Guardians of the Galaxy Vol. 3. The latter will serve as the conclusion to the Guardians film trilogy that Gunn kicked off in 2014.
According to one new report, it will also see Gunn reunite with the breakout star of The Suicide Squad.
A Familiar Face — Early Wednesday morning, Deadline released an article stating that Daniela Melchior will appear in Guardians of the Galaxy Vol. 3. James Gunn later took to Twitter to confirm the update, writing that Melchior is "wonderful" in the film and calling her "one of my favorite people & actors around." Gunn went on to say that he hopes Guardians of the Galaxy Vol. 3 is "just the second of many projects we'll work on together."
Melchior admitted on Twitter that she was shocked to see the "secret" get out, but wrote that she'll keep Gunn's "kind words in my heart." The actress, who received critical acclaim for her performance as Ratcatcher 2 in Gunn's Suicide Squad, also took the chance to express her excitement about getting to star in the long-awaited Guardians of the Galaxy sequel.
Now, with both Gunn and Melchior having confirmed her involvement in the upcoming MCU adventure, the only question that remains is: Who does she play?
An Exciting New Mystery — It is, of course, impossible to say with any real certainty at this point which comic book character Melchior is playing in Guardians of the Galaxy Vol. 3.
Gunn has previously said that, despite certain rumors claiming otherwise, she's not playing Moondragon, so that takes one name off the list. However, Gunn has also proven time and again that he's willing to include even the most obscure comic book characters in his superhero films, which means there are still numerous Marvel Comics characters that Melchior may play.
That fact hasn't stopped Marvel fans from speculating about the identity of Melchior's mystery character, and one of the leading theories is that Melchior will play Phyla-Vell. In the comics, Phyla-Vell is the artificially created offspring of Mar-Vell. She's faced off against villains like Thanos, the High Evolutionary, and Annihilus, and had frequently interacted with notable cosmic Marvel figures like Adam Warlock, Nova, and Starfox. Phyla-Vell and Moondragon are also lovers, and both have been members of the Guardians of the Galaxy.
While Phyla-Vell certainly isn't the only Marvel Comics character Melchior could be playing in Guardians of the Galaxy Vol. 3, she does seem like one of the most likely candidates.
The Inverse Analysis — Until more details are revealed about Guardians of the Galaxy Vol. 3, MCU fans will have to remain content with merely speculating about the nature of Melchior's role. That said, Gunn's tease that Melchior is "wonderful" in her role suggests that the Suicide Squad star will have a fair amount to do in the film.
That's an exciting possibility to consider regardless of who she ultimately plays.
Guardians of the Galaxy Vol. 3 will hit theaters on May 5, 2023.