House of the Dragon's Graham McTavish makes franchise acting an art
The sci-fi and fantasy mainstay takes immense pride in his craft.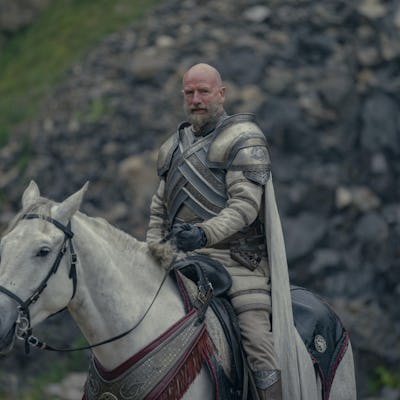 "Character actor" is often a four-letter word in Hollywood, but Graham McTavish embraces it.
"I would say I'm a character actor," the actor known for The Hobbit Trilogy, Outlander, and now, House of the Dragon tells Inverse. "Leading actors are a strange kind of breed in a way. They're heroes, a lot of them. And I don't play many heroes. I play villains, anti-heroes, complicated individuals, whatever you like to call them. But I like that, I find that enjoyable."
McTavish's latest "complicated individual" is Ser Harrold Westerling, a veteran member of the Kingsguard. To McTavish, the steadfastness of Harrold is just one more acting muscle he gets to stretch in a very diverse body of work. He might not be the star, but Westerling is a moral rock in the murky waters of Westeros power struggles.
"In House of the Dragon, I'm a stoic bodyguard who's thoroughly decent and has a very strong moral compass," McTavish says.
But most of his roles aren't so ethically unambiguous. As Dijkstra in Netflix's The Witcher, he shifted his morals to suit the situation, while Dougal Mackenzie in Outlander is "super objective." For McTavish, that's the beauty of being a character actor: you get to play all different kinds of characters.
"I get to play all these different roles," he says. "Leading men tend to behave more on tram lines a little bit."
The only thing that seems to unite his various characters? Almost all of them inhabit worlds more fantastical than our own.
McTavish didn't set out to play a dwarf of a knight of the Iron Throne. Quite the opposite. And it was an unlikely role that set him on this path.
"Every actor starts out thinking I want to play Hamlet," he says. "They have all these very lofty intellectual aspirations. But when I was in Rambo [in 2008] I thought, This is way more enjoyable."
McTavish is the very model of an actor that's becoming rarer and rarer in the entertainment industry: someone who understands the intense work involved in acting, who knows the vast legacy all stories hold, but also allows himself to play. It's this combination that makes his performances so effortless and helps anchor a show like House of the Dragon in reality.
Harrolding a New Era
McTavish's role in House of the Dragon has the rare distinction of being created almost from scratch. Ser Harrold Westerling is only mentioned a couple of times in the books and is dead early on in the story. So it was up to the HBO show's writers to craft a more interesting character who could stick around for longer.
McTavish attributes much of this to series co-creator Ryan Condal.
"Ryan is a massive Game of Thrones geek," the actor says. "He wouldn't mind me saying that."
McTavish prefers to "stick with the scripts" and avoid digging too deep into the source material of whatever he's working on. It wasn't until after being cast as the dwarf Dwalin in The Hobbit and showing up on set that he got around to reading the book.
This isn't out of intimidation by George R.R. Martin and J.R.R. Tolkein's prose, but rather a fear of tainting the professional experience.
"It can interfere because you start to take on too much of what is in the book rather than what's in the script," McTavish says. "It can also lead to being disappointed if things don't go exactly as they do in the book."
By only reading the scripts, the result is a character who isn't a combination of the actor and script writer's ideas from the book, but an actor's interpretation of the screenwriter work
In House of the Dragon, McTavish's Harrold Westerling is the old guard of the Kingsguard, the legion of devoted knights to the Targaryen royal family. His foil is Ser Criston Cole (Fabien Frankel), the emotional attack dog of Queen Alicent with a personal vendetta against her main enemy, Princess Rhaenyra. By Episode 9 when clear sides are drawn, Westerling and Cole find themselves on opposite sides of a looming conflict.
"Harrold begins really admiring Criston because he represents the kind of knight that the Kingsguard should have: someone who's actually experienced him in battle," McTavish says. "Without giving too much away, I think he slowly comes to revise that decision."
From King Lear to Dracula
If McTavish's approach to acting sounds especially classical, that's because he actually has a degree in English Literature from Queen Mary University of London, which allowed him to cut his teeth in Shakespeare before jumping into TV and film.
To him, working in Shakespeare was like a crash course in acting.
"One of the extraordinary aspects of Shakespeare's genius is that his plays contain the sum of human behavior. If you have experience doing different types of Shakespeare you have an incredible insight into human nature with those characters," he says.
This influence is visible throughout not only his body of work, but all stories. "House of the Dragon, Succession, The Sopranos, Yellowstone… They're all reworkings of King Lear, in my view," McTavish says. "That's what the appeal is when we watch these things. It's the family drama playing out in front of you and the terrible mistakes that people in those families make and the consequences of those mistakes."
McTavish is also a successful voice actor, probably best known for playing Dracula in Netflix's animated series Castlevania and the upcoming spinoff Castlevania: Nocturne. When pressed for details of the new series, he instantly demurs.
"It's a strange new facet of our business, there is this forbidden world you can't talk about. I've just finished season three of The Witcher, no way am I allowed to talk about it."
Spoiler culture is especially rampant now, but it always has been a looming threat for actors, especially on the lore-dense high-profile projects that McTavish finds himself working on.
"We used to joke about it on The Hobbit set," he recalls. "Peter Jackson had an assistant called Seb and he always struck me as a sort of assassin type. We would always joke that if you did anything to upset Peter Jackson or reveal anything, you would just get the poison dart in the back of the neck and that would be you finished."
What he can talk about, however, is how unique the Castlevania experience is. Because the entire series is filmed over a handful of days and done majorly by himself, it doesn't feel like a big commitment, but the payoff is massive.
"It's a weird, kind of lonely experience that's very quick, but it has a huge kind of longevity to it with the fandom," he says. And I defy any actor who's ever played Dracula to say that it hasn't been one of the great roles that they've ever played."
He's also provided the voice for trickster God Loki more than once, which begs the question: would he ever reprise the role for live-action now that we've seen multiple variants of Loki in his Disney+ spinoff?
"Oh, I would love to play him, Loki's a great character," he says. "I wouldn't deviate particularly from the traditional look of Loki, because it's just so cool. The way that character was drawn in Marvel was just fantastic. But obviously, I'd be playing an older version of Loki."
Though as a Scotsman, he'd have to have a kilt.