The Wildest Superhero Show of the Year Might Be in Serious Trouble
The Boys' youthful spinoff is still awaiting a renewal, but the creators are "hopeful" for a green light from Amazon.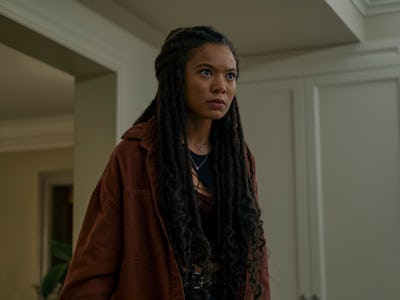 Prime Video
As Amazon's latest Boys-verse spin-off, Gen V, reaches its halfway point, it's tough to ignore the biggest question on the horizon. Is Season 2 already on the way? The possibility seems promising, what with Amazon giving co-showrunner Michele Fazekas a new writers' room in early 2023. But the future of the series is still up in the air, and Season 2 may not be arriving any time soon.
"We do not have an official season to order yet," Fazekas, who's taken over as full showrunner, recently told TheWrap. Though a room is in place, they've only met so far "to talk about what's possible." Still, she and The Boys executive producer Eric Kripke remain "hopeful" that Gen V will get the green light for Season 2 soon.
"We need to see how the show performs, and we need to see if people are watching it, and if Amazon's happy," Kripke said. "The fact that Amazon has paid for Michele to have a second season [writers] room is a good sign. So, you know, fingers crossed."
Given the impact the series is already making, one would think a renewal would be a formality. Amazon executive Vernon Sanders already shared a promising (if premature) update about the future of the Boys universe when speaking to TheWrap about Gen V's success:
"We wanted to take a moment and make sure the show had the reception that we were looking for. And in the first five days, we've been seeing incredible results ... It's 2023, and it's in our top three most acquisitive shows. A ton of people signed up for the service just to watch, and I think that's a testament to The Boys and also word of mouth. The show has just sort of taken off online, so we're thrilled with what we're seeing so far."
It's still early, but Gen V seems to be making quite the impact. From viral fan edits of the series' nonbinary, gender-shifting student Jordan Li (played by Derek Luh and London Thor) to the very real genre void Gen V helps to fill, it's definitely found its audience. Even its more controversial choices are starting conversations, and confronting the stigma around so many "teen" issues that have typically been swept under the rug.
As Kripke's plans for the franchise continue, so do Fazekas' goals for Gen V. The showrunner told TheWrap that the new spin-off could go beyond its inaugural season, even if there's no concrete, three-season plan. "The nice thing about working with Eric and working with Amazon is we're not beholden to, 'You have to go for X number of years,'" Fazekas explained. "It's like, where does the story take us? Where do the characters take us? I like being able to make decisions based on that versus based on hitting a number."
By that logic, Gen V could also wrap up its story within its first season. If it doesn't get a renewal, there's a sense the creative team got the freedom to tell the story they wanted. Whether its story will continue remains to be seen, but Fazekas and her team are happy with the ride so far, and Gen V's growing fanbase seems to be too.
Gen V is streaming on Prime Video, with new episodes each Friday.