The Goriest Superhero Show is About to Repeat a Fatal Franchise Mistake
Is 'The Boys' falling into the same trap as the creators' previous show?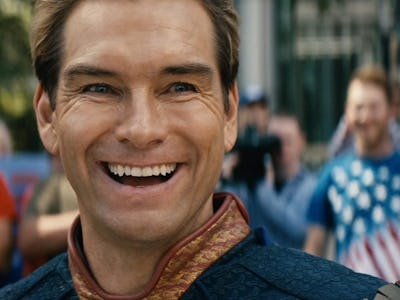 Prime Video
The Boys has gone from a no-holds-barred satire of superhero franchises and the comic book movie churn to a franchise in and of itself. Prime Video's answer to the MCU became such a success it now has a slew of spinoffs, including The Boys Presents: Diabolical and the upcoming Gen V. But just how far will this go? A concerning quote from an Amazon executive suggests this show could fall in its predecessors' footsteps, despite the showrunner's initial plan.
In a conversation with Entertainment Weekly, Amazon executive Vernon Sanders speculated on the future of The Boys as a franchise, mentioning series showrunner Eric Kripke. "I will say this: Eric has had a vision for what this all leads to for years now, and we've been in an ongoing conversation about what comes next," Sanders said. "So, it's probably premature to talk about that beyond saying we believe in Eric, and if Eric is interested in continuing the story, we'll be the first ones in line to really work with him on what that is."
That sounds like the ideal quote for an executive to give, in support of the creative mind behind the show. However, just what is Eric Kripke's vision? In a Twitter Q&A all the way back in 2020, Kripke revealed he has a five-season vision for The Boys, meaning we'd only get two more seasons.
However, there's a very big caveat for this plan in Kripke's past. He previously created Supernatural, and had a five-season plan for that show as well. But while Kripke left Supernatural after five years, the series went on for a grand total of 15 seasons.
"I made a mistake very early in my career on Supernatural," he said in a conference call in 2012. "I had a plan that ended the show after five years. After five years, Bob, Sera Gamble and I had the really difficult task of rebooting the show off the story line that I had basically been wrapping up in season 5. I think we really learned our lesson from that point forward."
Is Kripke in danger of making the same mistake again? The answer may just be in how much trust the Amazon executives have in Kripke's vision. If he truly only wants five seasons, the best option creatively would definitely be to end the series, but considering the success of the show — and its potential as a banner franchise — that may not be the best choice financially.
Hopefully, the creative integrity will win out, or else this show may veer even further into the territory of the cinematic universes that inspired the satire in the first place.
The Boys is now streaming on Prime Video.