Gen V Trailer Reveals the Return of a Terrifying The Boys Villain
The upcoming Prime series will deliver new blood to the gritty superhero franchise.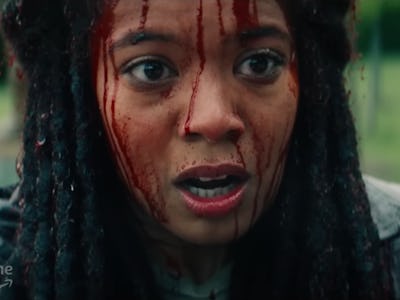 Prime Video
The Boys has always delivered shocking, gory superhero action tinged with a light satire of superhero media and politics. But throughout that hit show, there's something that's clearly missing: teenagers. Thankfully, The Boys' first live-action spinoff Gen V is coming soon, following young "supes" as they go through Vought International's Godolkin University School of Crimefighting.
So look out Sky High and My Hero Academia, there's a new superhero school drama on the scene. But don't expect teen drama stakes: this is still a The Boys show, and the horror and violence is at the same level. Now, there are just more hormones. Check out the full trailer below.
The series follows The Chilling Adventures of Sabrina's Jaz Sinclair as Marie Moreau, a supe with the ability to control blood (Avatar: The Last Airbender's "blood benders" called) who makes a name for herself at Godolkin, a superhero school where young supes face off against each other. Marie wants to see herself as the first Black woman on the Seven, however, the secrets among the students may threaten everything.
The series also stars Chance Perdomo as metal bender Andre Anderson, Lizzie Broadway as Emma Meyer, a supe with the ability to shrink down to a half-inch tall, and Derek Luh and London Thor as Jordan, a "gender-shifter."
But most interesting about the trailer is how Gen V ties into the greater The Boys storyline with its inclusion of Victoria Neuman (Claudia Doumit), the upstart congresswoman (and obvious Alexandria Ocasio-Cortez stand-in) who is attempting to take Vought International to task. Apart from Victoria Neuman, there will be plenty more crossover, including appearances by Jensen Ackles as Soldier Boy, Jessie T. Usher as A-Train, and Colby Minifie as Ashley Barrett. The Boys' world is expanding, and it's about time we recognized the next generation of supes and their adventures — while still checking in with the old guard.
But on its own, it looks like Gen V will combine a lot of elements of the teen dystopian genre with trademark The Boys tone: Hunger Games fame and battles, Harry Potter conspiracies lurking in the school, Percy Jackson chosen one elements, and plenty of superhero lore. But this isn't a family-friendly affair: one glance at Marie's blood-bending powers prove it's just as no-hold-barred as its predecessor.
Gen V premieres September 29, 2023.