Gen V Release Date, Time, Trailer, and Plot for The Boys Spin-Off
Amazon's superhero satire has a new form for the fall semester.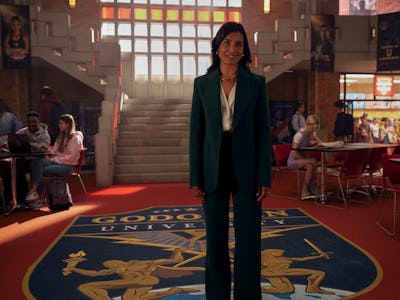 Prime Video
The Boys-verse is about to get a whole lot bigger. As Amazon's flagship superhero satire creates its own interconnected universe, skeptics may worry it's losing a bit of its bite. But fans and critics alike are on the lookout for Gen V, the spinoff set to take the franchise back to school. Its premiere is right around the corner, so here's everything you need to know, from Gen V's place on the Boys' timeline to the word on a second season.
When is the Gen V release date?
Episodes of Gen V stream each Friday on Amazon Prime Video, beginning with the series' three-episode premiere on Friday, September 29. The series will continue with a weekly release schedule until its final episode airs on November 3.
What is the Gen V release time on Prime Video?
Amazon has yet to confirm a release time for Gen V, but the platform typically drops new episodes at 8:00 p.m. EST, which is 5:00 p.m. PST.
What is the plot of Gen V?
Gen V follows a group of teenage superheroes as they pursue higher education at Godolkin University. "God U" is owned and operated by supercorp Vought International, which means fans can expect more bureaucratic backstabbing. Gen V sees incoming freshman Marie Moreau (Jaz Sinclair) stumble into a campus-wide conspiracy involving something called the Woods, and it falls to her and an unlikely crew of students to hold their elders accountable. You can expect the same gory thrills and depraved twists that made The Boys such a phenomenon. After all, if there's anyone who knows how to get rowdy, it's a bunch of indestructible teens.
Is there a trailer for Gen V?
Amazon has been pulling out all the promotional stops for its latest series. In addition to its trailer, fans can also take a virtual tour of the God U campus, check out merch, and get to know the incoming class.
Where does Gen V fall in the Boys continuity?
Gen V shares a lot of connective tissue with The Boys. In addition to a handful of cameos from the likes of A-Train (Jessie T. Usher) and Vought CEO Ashley Barrett (Colby Minifie), Gen V is picking up shortly after The Boys' third season. It would help to brush up on the events of that season — particularly where vice presidential candidate Victoria Neuman (Claudia Doumit) or the Seven are concerned — but it's not totally necessary.
How many episodes will Gen V have?
Like most Prime Video series, Gen V will have eight episodes.
Will there be a Gen V season 2?
Breathe easy, Boys fans: Season 2 of Gen V is already in development. Executive producer Michele Fazekas, who co-created Gen V with Tara Butters, returns as sole showrunner, but not much else is known about Season 2 yet.
Gen V premieres Friday, September 29 on Prime Video.