Did Dwayne Johnson's Falling Out with DC Lead to the Live-Action Moana Remake?
Black Adam may not have a place in DC's cinematic future. Could that have driven its star to find a new project?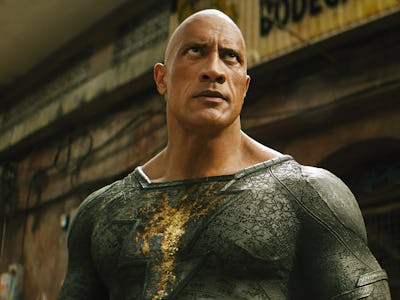 Warner Bros. Pictures
There was a time — and not very long ago — where Dwayne Johnson might have been a saving grace for cinematic universes. He's frequently been tapped to join (read: save) a number of struggling franchises. His role as Luke Hobbs was just what the Fast & Furious saga needed to level up; other sequels, like G.I. Joe: Retaliation, certainly felt more purposeful with him on board. As Johnson's influence grew though, so did a less-than-stellar reputation. The actor and producer has become synonymous with public pandering and battles for creative control, particularly within DC's tumultuous cinematic universe.
Johnson famously fought for years to bring a popular anti-hero, Black Adam, from the pages of the DC comics to live-action. His involvement should have spelled inevitable success for DC — and after nonstop turmoil within the company, it certainly needed the win. Unfortunately, Johnson's presence has had the opposite effect: Black Adam wasn't an outright failure, but Johnson's behind-the-scenes conduct may have jeopardized the potential for a sequel. Recent reports have painted the actor as a brand-obsessed celebrity; his desire to build that brand further turned Black Adam into a vehicle for his own ego, and damaged his relationship with DC in the process.
The future of DC is now firmly in the hands of The Suicide Squad director James Gunn, and there's apparently no place for Black Adam 2 on the immediate horizon. Did Johnson's efforts to position the titular anti-hero as the new center of the DCU have any effect on that decision? That remains to be seen, but Johnson's bounced back quickly either way. This week, he and Disney announced plans to remake their animated hit Moana, this time in live-action.
Johnson, of course, will be heavily involved in the remake. In addition to producing, the actor plans to reprise the role of Maui, the demigod he lent his voice to in the 2016 film. The adaptation will be much more personal this time around. "This story is my culture, and this story is emblematic of our people's grace and warrior strength," Johnson said in Disney's announcement. "This once-in-a-lifetime opportunity to reunite with Maui, inspired by the mana and spirit of my late grandfather, High Chief Peter Maivia, is one that runs very deep for me."
The Inverse Analysis — That Disney is continuing a hollow (yet lucrative) trend isn't a surprise, but it is shocking that they're revisiting a property that's barely had a decade to breathe. One can't help but wonder whether Johnson himself lobbied for a live-action remake, and whether his recent failures at DC inspired the decision. His character Maui was originally the focus of Moana; the character even resembled Johnson in appearance. Johnson clearly served as a major influence in the early stages, and as a producer, he'll be able to exercise that influence even more now, just as he did on Black Adam.
Whether those efforts will backfire here remains to be seen. For now, it'll be interesting to see how this new adaptation develops — and whether it can withstand the almighty pull of Johnson's ego.