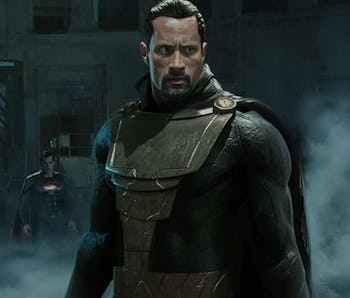 Entertainment
DC Loves The Rock So Much, It's Making a 'Black Adam' Solo Film
ScreenRant, Juan Hugo Martinez
Perhaps it was folly for DC Entertainment to court Dwayne "The Rock" Johnson for a mere villain role in Shazam. This week, the company announced its plan to split the Shazam franchise — which still doesn't have a lead actor — into two separate films, including a solo project for Johnson. As excited as DC fans might be to hear the news, no one is more psyched than The Rock himself to see this happen.
After meeting with Geoff Johns and the other creatives developing films at DC, Johnson posted a photo and caption calling his character a "villain/anti-hero." Black Adam, who originally appeared in DC Comics in 1945, is only rarely depicted as an anti-hero. The fact that Johnson has latched onto this characterization is curious; it would also be a pretty big waste of his immense charisma to stick him in a "bad guy" corner and dispose of him after a single film.
Positioning Black Adam as an anti-hero instead of a one-shot villain for DC's Captain Marvel, probably has a lot to do with Johnson's long history of playing chaotic neutral characters. Johnson's wrestling persona, The Rock, incorporated a lot of pompous showboating, which Johnson began using in response to the boos he'd get from the crowd. Ironically, once The Rock solidified himself as a WWE villain character, the fans who loved other "evil" characters like Stone Cold Steve Austin and the Undertaker began cheering for Johnson's (performed) viciousness.
Basically, Johnson knows how to play a likable, unpredictable jerk — just watch Moana.
There is no release date yet for DC's Black Adam film.