Donald Glover's Lando Will Give Star Wars Exactly What It's Missing
The series could finally say the quiet part out loud.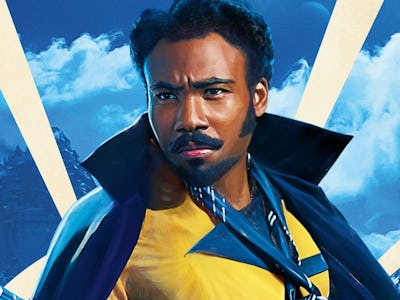 Lucasfilm
On December 10, 2020, Lucasfilm swung for the fences. Lucasfilm president Kathleen Kennedy announced nine new original series, ushering in a new era of Star Wars media.
Over the next three years, some of the series succeeded on Disney+ (Andor, Obi-Wan Kenobi), others flopped and were purged from the service (Willow), and some were canceled before they ever got off the ground (Rangers of the New Republic). But one series remained a mystery... until now. The most anticipated show Kennedy announced now has a confirmed writer — and, presumably, star — who could give Star Wars exactly what it needs.
Variety reports that brothers Donald and Stephen Glover will write for Lando, the Lando Calrissian spinoff series, which we haven't heard a word about since 2020. Donald Glover will reprise his role from Solo, which was widely regarded as one of the movie's highlights. Dear White People showrunner and Haunted Mansion director Justin Simien was previously connected to write, though he told The Hollywood Reporter on Thursday that he didn't know the current state of his involvement.
Donald Glover's continued involvement is a good omen, and not just because it means Lando hasn't been canceled. Star Wars has always explored real-world topics through allegory: look at how The Mandalorian portrays differences between religious sects, or how The Book of Boba Fett tackled Indigenous representation in the franchise's own past.
But sometimes it doesn't hurt to be a little more explicit, and that's what a Lando series penned by the Glovers could deliver. Lando Calrissian's not an alien, a droid, or another walking metaphor. He's a queer Black man making his way through the galaxy however he can. This is a story they've told before; Donald and Stephen Glover's Atlanta wasn't just a show about a Black man, but one that explored all sorts of otherizing, from poverty to systemic injustice to simple human peculiarities. Lando doesn't need to be Atlanta in Space, but if it captures even a fraction of Atlanta's tone it can be one of Star Wars' most mature projects.
The world of Star Wars TV needs this. While the Disney+ series are quite diverse, they haven't really explored the simple ways millions of people can feel different. Din Djarin is different because he's a Mandalorian, Boba Fett is different because he's the son of the infamous clone Jango, and Ahsoka is different because she's a former Jedi. Those are all cases unique to the Star Wars galaxy.
But Lando doesn't need those signifiers. He's his own person with his own struggles, and Lando can show them without obscuring his story behind layers of allegory. With Donald Glover playing the lead, Lando promises to first and foremost be a fun ride. But it also has the chance to go a little deeper than the typical Star Wars show, which is just what the franchise needs to shake things up.