Donald Glover's Lando Spinoff Might be Happening — Why That's Great News for Star Wars
Solo: A Star Wars Story wasn't Lucasfilm's biggest hit, but the cast is still keen to return.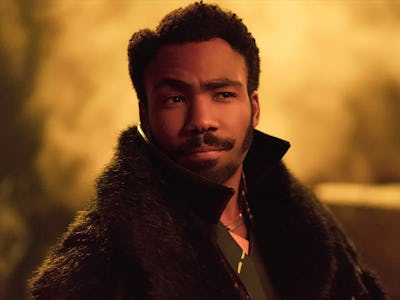 Lucasfilm
Solo: A Star Wars Story is the ugly step-child in Lucasfilm's marriage to Disney. But does it really deserve its bad rap? The film was marred by a tumultuous production, which saw original directors Phil Lord and Chris Miller ousted and replaced by Ron Howard for extensive reshoots. It was also a box office bomb, at least by Star Wars standards. Compared to the divisive sequel trilogy, which tore the fandom apart but still made oodles of cash, Solo became a scapegoat for Lucasfilm's theatrical failures and its pivot to smaller-scale series.
But it's not fair to discredit the film entirely. Solo may have suffered from a muddled plot and unfortunate backstage drama, but it still managed to take the Star Wars galaxy in new directions, and turn the spotlight on a host of underrepresented characters in the process.
One particular character deserves major reappraisal: Lando Calrissian. Billy Dee Williams' smuggler stole the show in The Empire Strikes Back, and he quickly became a fan favorite. Though the character was sidelined in Return of the Jedi, Lucasfilm redeemed itself 35 years later with Solo. Actor, writer, rapper, and producer Donald Glover took over the role from Williams, proving once and for all that Lando had leading-man potential. With Lucasfilm looking to expand Star Wars' scope with spin-offs and TV series, a standalone, Lando-centric adventure seemed like a natural development.
Sure enough, when Disney and Lucasfilm unveiled a new slate of projects back in 2020, Lando was one of many shows announced. It was touted as an "event series" — likely similar to Obi-Wan Kenobi — and came with a writer-director attached. But Glover himself was never confirmed for the project, which may be why we've heard so little about Lando since then.
As one of the most in-demand actors and writers in the game, Glover's been choosy with the projects he spends his time on. Between his ongoing partnership with Prime Video — which produced Swarm last month and will also distribute his Mr. and Mrs. Smith remake — and an upcoming Spider-Man spin-off, his time is growing ever more precious. Lucasfilm President Kathleen Kennedy suggested as much in June 2022, telling CinemaBlend that Glover held "all the cards" in negotiations for the Lando series.
Glover, however, is open to returning. "I would love to play Lando again," he recently told GQ. "It just needs to be the right way to do it ... I'm not interested in doing anything that's just gonna be like a waste of my time or just a paycheck." And while that may just sound like Glover leaving the door open, he added, "We're talking about it. That's as much as I can say without Kathleen Kennedy hunting me down."
Lando could represent much more than just a payday for Glover and Lucasfilm, if they ever manage to get on the same page. If the spin-off performs well, it could prompt Lucasfilm to reconsider other threads left dangling in Solo. Emilia Clarke's Qi'ra could dive further into the messy politics of the galaxy's crime syndicates, which The Book of Boba Fett dropped the ball on. Fans have also been quietly hoping for a return from Enfys Nest, the mysterious freedom fighter that may have inspired the Galactic Rebellion. Lando could bring Solo's intriguing characters back into the fold, if Lucasfilm will only consider the possibilities.