Why is J.J. Abrams so salty about 'The Last Jedi'?
A comprehensive history of Abrams and Rian Johnson sniping each other in the press.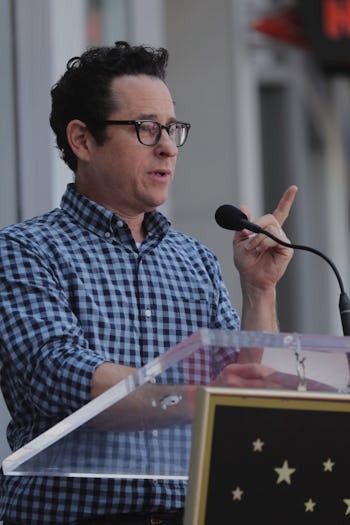 Eric Charbonneau/Shutterstock
There's been a disturbance in the press tour for Star Wars: The Rise of Skywalker this week as things turned from civil and cheery to just a little menacing. First, John Boyega said some pretty dumb stuff about The Last Jedi and his co-star Kelly Marie Tran, but we're even more perplexed by some particularly salty statements from Episode IX writer and director J.J. Abrams about Episode VIII and, by association, its writer/director Rian Johnson.
Speaking to The New York Times, Abrams described the The Last Jedi for being "full of surprises and subversion and all sorts of bold choices." Then, he twisted the knife:
"On the other hand, it's a bit of a meta approach to the story. I don't think that people go to Star Wars to be told, 'This doesn't matter.'"
He added that Last Jedi was "a story that I think needed a pendulum swing in one direction in order to swing in the other."
That's pretty harsh, at least by J.J. Abrams press tour standards, and while Abrams later walked back those statements in a couple more interviews, the damage was already done. Angry white dudes across the internet rose up once more to complain about The Last Jedi; everyone else shook their heads in dismay.
After years of feigned civility, Abrams is basically calling out Johnson for trying to subvert classic Star Wars tropes with The Last Jedi rather than simply offering the fan service that The Force Awakens was all about. And it kind of sounds like The Rise of Skywalker will might be pretty close TFA in that way.
So why is Abrams so salty all of a sudden? Could it be he's been stewing on some Rian Johnson quotes about his own Star Wars movies? A bit of research suggests that's exactly what's happening.
Johnson's never been quite as blatant about it as Abrams, but he's definitely thrown some shade of his own. For starters, back when The Last Jedi was about to hit theaters, Johnson revealed that he wrote his script before even seeing The Force Awakens.
In December 2017, he told Variety:
"When 'Force Awakens' came out we were in prep and there was definitely a little gasp. The spotlight turned on us briefly and we went and made sure the script was as tight as it could be and did a little polish to it. For me, the big thing I'm thankful for looking back is I wrote the script before 'Force Awakens' was even really made. They were shooting it while I was making the script. So I got the best of both worlds. I got to just personally react to the story and the script and what I was seeing the actors bringing to the parts in the dailies, and I got to put that personal reaction into it without trying to filter all the world's reaction to it."
More recently in 2018, Daisy Ridley (Rey in the movies) revealed in a foreign press interview (via IGN) that Johnson also completely ignored Abrams' proposed script for Episode VIII. (The Force Awakens director initially penned rough drafts for the entire trilogy.)
"Rian Johnson and J. J. Abrams met to discuss all of this, although Episode VIII is still his very own work," Ridley said. "I believe Rian didn't keep anything from the first draft of Episode VIII."
Finally, at a red carpet event in April, MTV asked Johnson about Episode IX. His reply can be read as either encouragement for an old colleague, or a brutal own.
"I want him to do stuff that I wasn't expecting him to do," Johnson said.
Considering the major criticism for The Force Awakens was that it felt more like a classic Star Wars remix, this could be read as a pretty savage burn. Of course, Johnson hadn't seen The Rise of Skywalker yet when he gave that quote, but the message is clear: Hey J.J., maybe try doing something actually new this time…
With just a week left before Rise of Skywalker hits theaters, Abrams has plenty more opportunities to get his shots in at Johnson, and who knows, we might even see the Last Jedi director turn up at the red carpet to throw some shade of his own.
It wouldn't be the first time.
Star Wars: The Rise of Skywalker hits theaters on December 20.