Doctor Strange 2 leak reveals axed Daniel Craig cameo
The massive Multiverse of Madness cameo that almost was.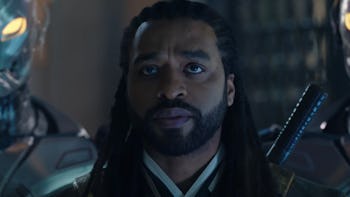 It's difficult to imagine that there were versions of Doctor Strange in the Multiverse of Madness that included even more cameos than the finished film did. However, as more behind-the-scenes details continue to be revealed about the film, the more Marvel Cinematic Universe fans learn about all the ideas that were ultimately abandoned.
According to a new Marvel leak, there was even a brief period of time where the Doctor Strange sequel was going to feature a cameo appearance from one of the biggest and most recognizable movie stars in the world as a comic book character yet to appear in the MCU.
The Leak — In a recent video, the Heavy Spoilers YouTube channel claimed that Daniel Craig was originally supposed to appear in Doctor Strange in the Multiverse of Madness as Balder the Brave. Apparently, the character was supposed to be one of the members of the Illuminati that appears during the film's Earth-838 section. However, Craig allegedly dropped out of the project due to concerns related to COVID-19 outbreaks.
Heavy Spoilers goes on to claim that Craig's Balder would have been talked into killing himself by Wanda Maximoff (Elizabeth Olsen). Balder, therefore, would have died along with the rest of the Illuminati during Wanda's devastating attack in the film's second act.
No one involved in Multiverse of Madness has commented on Craig's unconfirmed connection to it. That said, this alleged leak does line up with two previous and notable rumors about the Doctor Strange sequel.
Introducing Balder the Brave — This leak comes after Deadline's Justin Kroll recently tweeted that Craig was originally supposed to play Reed Richards a.k.a. Mister Fantastic in Multiverse of Madness. That claim is also unconfirmed, but the fact that both rumors have been circulating suggests that there's some validity to the claims that Craig was involved with the film.
It's also worth noting that it was rumored several months before Multiverse of Madness' theatrical release that Balder the Brave was going to be one of the members of the Illuminati. When those rumors were circulating no one seemed to agree who was playing the character, with some leakers even speculating that Bruce Campbell had been cast as the obscure Marvel Comics figure.
Now, thanks to this purported leak, it looks like it may have been Craig who was supposed to play the MCU's version of Balder the Brave.
The Inverse Analysis — Marvel fans will have to wait until either Craig or someone else involved in Multiverse of Madness confirms or denies his abandoned appearance before they can know just how accurate this leak is. For what it's worth, Craig is a sensible choice to play a live-action version of Balder, who is not only Thor's half-brother but also invulnerable to everything except mistletoe.
At the very least, it certainly seems like Craig would be better suited to play Balder than Reed Richards, a character that the No Time to Die actor doesn't resemble in any substantial way.
Doctor Strange in the Multiverse of Madness is now playing in theaters.