Doctor Strange 2 Disney Plus release date is sooner than you think
The Multiverse of Madness will enter your homes this month.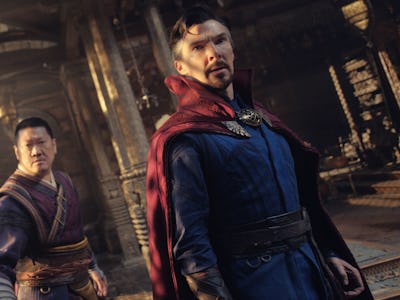 The multiverse is seemingly everywhere, and now it will be delivered directly into your home. Disney+ has finally announced when the latest Marvel Studios film, Doctor Strange in the Multiverse of Madness, will be arriving on the streaming platform.
Many — including fans and casual viewers — will be very pleased they won't have to wait too long to descend into this maddening multiverse from the comfort of their living room.
What is the Doctor Strange 2 Disney Plus release date?
Disney+ released the above video message from the cast of Multiverse of Madness on June 2. Benedict Cumberbatch, Elizabeth Olsen, Benedict Wong, and Xochitl Gomez thanked the fans for their support of the Doctor Strange sequel and announced the movie will make its Disney+ premiere on June 22, 2022.
This is the quickest a Marvel Cinematic Universe film has made its streaming debut after its theatrical premiere since Black Widow (which had a same-day release in theaters and on streaming). Eternals and Shang-Chi and the Legend of the Ten Rings didn't arrive on Disney+ until 60-70 days after first being released in cinemas.
Like many major film releases, Doctor Strange 2 has a 45-day window in theaters that started on May 6 and ends on June 20. So, for Disney+ to launch the sequel just two days after its theatrical run is surprising, but it also makes sense as it allows more people to watch (or rewatch) Multiverse of Madness before the next MCU movie, Thor: Love and Thunder, opens July 8 in theaters.
What time will Doctor Strange 2 premiere on Disney Plus?
Disney+ usually releases its new movies and TV shows at midnight Pacific — or 3 a.m. Eastern. With that in mind, we should expect Doctor Strange in the Multiverse of Madness to drop at midnight Pacific on June 22.
However, Marvel could shake things up and follow Lucasfilm's recent example with Obi-Wan Kenobi. The Star Wars show was initially supposed to release at midnight on May 27, but Disney+ surprised fans by premiering the series a few hours earlier at 9 p.m. Pacific on May 26.
It's unlikely Disney+ will release Doctor Strange 2 earlier than usual, but at the very least, Marvel Studios is finally giving the fans what they want — and much sooner than expected.
Doctor Strange in the Multiverse of Madness arrives June 22, 2022 on Disney+.
Inverse may receive a portion of sales if you subscribe to Disney+ through the link.