DC Was Working on a Spider-Verse-Inspired Batman Beyond Movie — How It Could Still Happen
While the project could end at any time, DC is reportedly pursuing a revival of the classic Batman sequel series.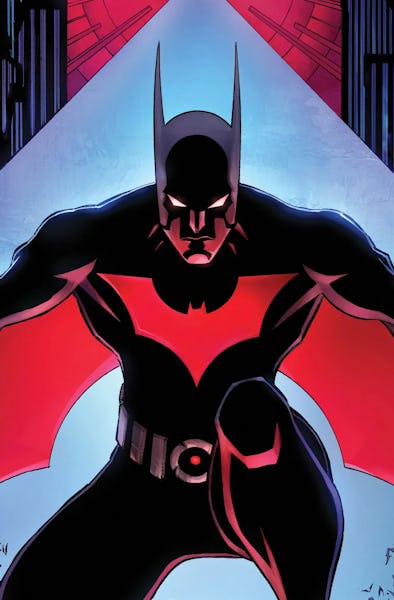 DC Comics
The DC Universe is rebooting, but one project from before James Gunn's reign is still in development, at least for now. That project is a new film based on the cult classic series, Batman Beyond.
In a recent episode of the podcast The Hot Mic, industry insider Jeff Sneider let slip an animated Batman Beyond movie was, and maybe still is, in the works at Warner Bros., and that F9 writer Daniel Casey has submitted "multiple drafts" of a script. Sneider added the movie was conceived as an animated film to compete with Marvel/Sony's Spider-Man: Into the Spider-Verse.
"There are multiple drafts of it up at Warner Bros.," Sneider told host John Rocha. Sneider added the project isn't safe nor a sure thing. (After all, we've seen what WB can do to movies that have finished.) But "as of this minute," the project remains alive at DC and WB.
Sneider further noted that the movie was commissioned by Walter Hamada, the previous head of Warner Bros. and overseer of DC prior to co-chairs James Gunn and Peter Safran. This further casts the movie's future in doubt, as Gunn and Safran may decide it doesn't fit their plans for the franchise.
Sneider himself doesn't think the project will go far, telling John Rocha: "Do I have high hopes for it? No. I imagine that this is something that is not going to fit in with the new regime's plan. Which I think that's fair. Why would James Gunn want to use stuff that Walter Hamada was planning?"
At the same time, Gunn and Safran have created the spin-off "Elseworlds" label that allows standalone projects to disregard continuity. Sequels to both 2019's Joker and 2022's The Batman will fall under the Elseworlds banner, and this new Batman Beyond could do so as well.
On the podcast, Sneider elaborated that the movie was/is separate from a separate live-action Batman Beyond movie, which at one point had attached screenwriter Christina Hodson. "It was an animated Batman Beyond movie, intended to be DC's answer to Into the Spider-Verse," Sneider said. "There's a total possibility that that's not what James Gunn is looking to do ... but the fact is, Dan Casey wrote multiple drafts of this movie as far as I know, and it has never been reported on and it has technically not — no one involved in that project has been told it's dead yet."
In its original form, Batman Beyond was a sci-fi centric sequel to the award-winning Batman: The Animated Series and inhabited the same shared universe. It ran for three seasons on The WB's children's block, Kids' WB, between 1999 and 2001. Set in a then-future year of 2019, Batman Beyond takes place in a dystopian Gotham City where crime is still rampant despite Batman's best efforts. A fifty-something Bruce Wayne (voiced by Kevin Conroy) takes in a college student, Terry McGinnis (Will Friedle), and trains him to be his successor as the new Batman of the 21st century.
It is unknown if this Batman Beyond film is a continuation of the series, or a reboot using the same story. Regardless, Batman Beyond has a legion of fans who hold the show in high regard and would flock to a new movie in theaters. Despite the original show's intended audience being children, its early Y2K art style and darker storytelling appealed to an audience of teens and young adults.
The Inverse Analysis — As Gunn and Safran pursue their grand vision for the DCU, the Elseworlds label is an opportunity for standalone DC movies and shows to exist in tandem, and to entertain fans without bothering with continuity. Audiences are more sophisticated with superhero multiverses than ever, and Into the Spider-Verse proved even standalone movies will draw in audiences (and awards). Batman Beyond could do the same thing. It just needs to take flight.