Marvel's Most Exciting New Show Is Using a Underhanded Disney Tactic
Born again, with a new name.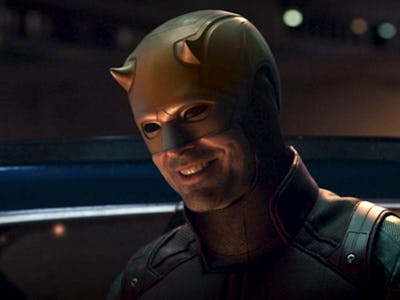 Marvel Studios
Marvel loves a callback, and in She-Hulk: Attorney at Law, we got a callback for the ages: the return of Matt Murdock, Daredevil from the Netflix series Daredevil. Now, Disney+ is reviving the Daredevil franchise, but under a new name: Daredevil: Born Again. But why the rebrand? Is it a way to differentiate itself from the old iteration now under a new streamer? Is it a way to mark a miniseries the way comic book subtitles do? The series' old showrunner suggests this move may actually be a way to skirt union rules, and there's a precedent to back it up.
After the HBO series Winning Time was canceled after two seasons, Twitter user @t_NYC, an IATSE union member who worked on the Netflix series Daredevil, took to the platform to explain how premature cancellations can affect a show. The tweet referenced a past thread, where the user claimed, "I worked on all three seasons of Netflix Daredevil. We get wages/conditions based on seasons, and season three is when we get our full wages/conditions. They cancelled it at season three. It will comes back as 'season one.'"
The tweet was then quoted by Steven DeKnight, the showrunner for Netflix's Daredevil, who seemingly confirmed this practice, saying, "It's an old Disney scam where they slightly rename a series to reset contract terms back to first season." (Inverse reached out to Disney for comment but did not receive a reply.)
There's actually precedent for this three-season rule under Disney. In August, actor Joey Bragg from the Disney Channel show Liv & Maddie appeared on the Cash Cuties podcast and described something similar. "The first three seasons of a show you get paid 88% of scale," he said. "By the third season even if the show's popular, they reboot it as a brand new show. So we were Liv & Maddie for the first three seasons and the last season was Liv & Maddie Cali Style."
This rule — at least at Disney Channel — explains why The Suite Life of Zack and Cody was rebranded into The Suite Life on Deck after three seasons and why Hannah Montana became Hannah Montana Forever. But for now, there's only anecdotal evidence that this policy is why Daredevil was rebranded.
The deciding factor may just be the only Disney+ franchise show that's now on the precipice of the fourth season: The Mandalorian. (The only other longer-running Disney+ series is High School Musical: The Musical: The Series, which ended this summer after four seasons.) If The Mandalorian is rebranded and renamed ahead of its fourth season, we may just have evidence of how long Disney+ shows will be allowed to last.