New Star Wars Report Fixes The Mandalorian's Biggest Sin
Boba Fett may finally prove himself worthy.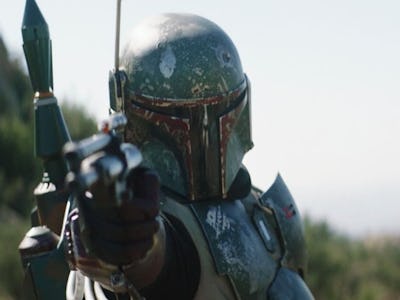 Lucasfilm
Star Wars fans used to camp out for movie tickets. Now, they stay up late to watch new episodes of The Mandalorian on Disney+. The way we experience Star Wars has changed, maybe forever, and a new report reveals one surprising way Lucasfilm is doubling down on the small screen even as the studio gears up for its first movie in years.
The first live-action Star Wars series to join The Mandalorian on Disney+ series was The Book of Boba Fett, a spinoff focused on the iconic bounty hunter. It was largely seen as an extraneous series that happened to include an essential chapter in the Mandalorian's story. But new information suggests it may become just as important as its predecessor.
MakingStarWars.net recently reported on rumors concerning The Mandalorian Season 4 and other Lucasfilm projects. With the Writer's Guild of America's union contract up in May, many production companies are bracing for a writer's strike like the one that occurred from November 2007 to February 2008. In preparation for a possible strike, production on Mandalorian Season 4 is apparently already in motion, but that's not even the most exciting part.
Apparently, crew members are also refurbishing elements of Boba Fett's storyline, including the cockpit of his Slave 1 ship and his instantly recognizable armor. Rumors are spreading that this could mean The Book of Boba Fett Season 2 is confirmed and the two series are going into production concurrently.
This would be huge news delivered at a perfect time. With The Mandalorian Season 3 coming extremely soon, fans have realized that any rewatches they do in preparation must include the episodes of The Book of Boba Fett that follows Mando, Grogu, and even Luke Skywalker. In one particularly pivotal episode, Grogu is forced to decide between his Jedi training and his life as an adopted Mandalorian. Of course, he chooses Mando.
The news of Boba Fett's armor getting a touch-up is good news regardless — it means the return of the bounty hunter in one form or another. But if this is truly pre-production for The Book of Boba Fett Season 2, it could completely change the show's legacy. Right now, the series is seen as a one-off miniseries to tide fans over from The Mandalorian Season 3 and 4. A Season 2 could make it more of a staple of Star Wars TV, the sister show to The Mandalorian instead of the annoying kid brother.
The Book of Boba Fett may have gotten a bad rap merely for not being The Mandalorian, but a second season could give it an identity of its own and make it essential to those who are tuning in for yet another rewatch. In the world of Star Wars fandom, the rewatch is a sacred ritual. The Book of Boba Fett has yet to prove itself worthy as an essential chapter.
The Mandalorian Season 3 premieres March 1, 2023 on Disney+.